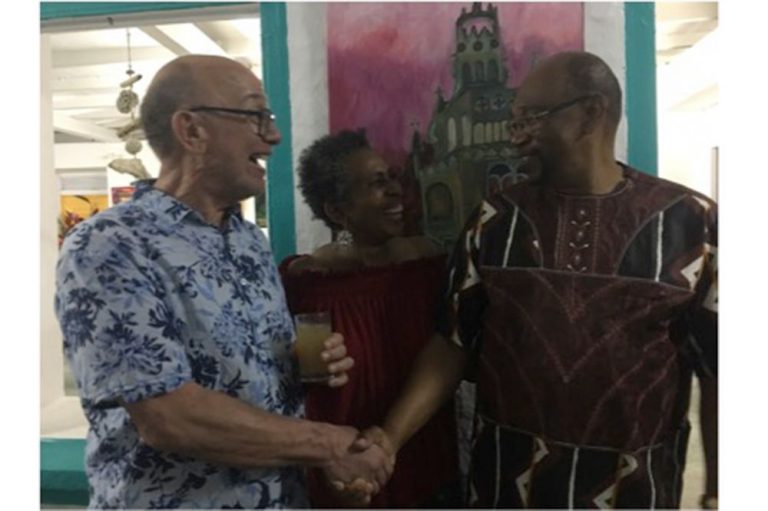 When art takes centre stage
by Dexter Rose
Art took centerstage Saturday evening against a backdrop of soothing steelband music and the beating on the waves at Villa as the Youlou Arts Centre officially inaugurated its first permanent gallery.
Art lovers flocked to the former site of At Basil's Too beside the sea as founder Camille Saunders-Musser and her art aficionados proudly put on display the results of many hours of tedious brushstrokes, photography and artisanship for the pleasure of the art loving public.
It was a scene of encounters and re encounters over cocktails as patrons elegantly but casually attired mingled while they admired the various works of art.
Saunders-Musser founded this organization some 18 years ago on one of her visits to her native St Vincent and the Grenadines (SVG) and has since been offering summer workshops for youth here.for children ages 5-12 in Georgetown, Kingstown, Barrouallie and Spring Village to great response.
This dedication toward reviving and keeping alive the visual arts must have been instilled in this evergreen energetic force by her own mother Theo Saunders who, for decades, operated a shop in Kingstown, which still functions, where artisans would obtain supplies for their handcraft. This opening then, must have been a fitting tribute to the late Theo Saunders.
It was pleasing to see Minister of Culture Ces McKie among the persons attending Saturday's opening of the gallery. His presence must be taken as a reminder of the need for continued and improved support for the visual arts in SVG.
The gallery will be open Mondays to Fridays from 10:30 a.m. to 5 p.m. and on Saturdays, 10 a.m. to 1 p.m. and must be visited. This is a great and welcomed additional option for locals and visitors alike. Go along with your cheque books because the works are on sale.