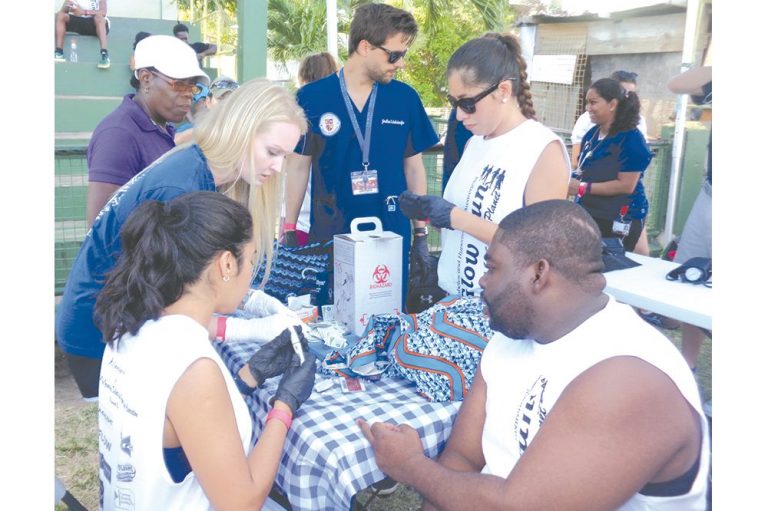 Trinity Amsa assists 'Glow Run' for diabetes awareness
Members of Trinity American Medical Students Association (AMSA) embraced the opportunity to administer fitness checks for participants in the first ever 'glow run' which took place on Saturday, March 4. The event, put on by the 18-month-old Islandwide Fitness, saw participants taking off from the Richmond Hill Playing Field on Murray's Road and moving towards the SOV Restaurant in Villa. Before their departure, however, runners were given medical checks for blood sugar and blood pressure.
According to Keyon Constance, Director of Islandwide Fitness, the fitness checks were vital to the activity. "The twenty-five students of Trinity were placed in total control of administering the health checks," he said, "and persons have become excited to do them and find out what their numbers are, be they low, normal or high."
Moreover, Constance explained his passion for the exercise, "I am the Vice President of the Diabetic and Hypertensive Association of St. Vincent and the Grenadines and I've been living with Type 1 diabetes since I was twenty-one years old. That makes me very passionate about awareness of these diseases." He claimed to believe that awareness begins when persons get to know their numbers and understand the implications and if persons were found with numbers below or above the normal range the nurses and doctors present would counsel them.
Subsequently, the run took off from the playing field, but one may ask, what is a 'glow run'? Constance defined it as, "A night run, the first of its type in SVG and in the Caribbean. Participants wear glow-wear: glasses, bracelets, necklaces and are splashed with colored paints and powders at 'Glow Stations' manned by volunteers along the way." To add to the spectacle, this 'glow run' also boasted 'photo stations' which would record the runners in their various splashed patterns as they would stop for a photo opportunity.
As for his reason for involving Trinity, Constance stressed, "It is important for these students to gain the exposure and practice it brings. They also get to interact with the local people, in giving service to the community. I would certainly like this to develop into a relationship between Trinity and Islandwide Fitness." Similarly, speaking on behalf of her colleagues, Term Two student Chelsea Smith elaborated, "This is important for the interaction in real life situations. Everyone talks about diabetes and know somewhat about it, but not enough. It's highly preventable so that's why we want to help to spread the awareness. If a person's number is in a danger zone, they just has to change their lifestyle: the way they eat, and move; identify the stressors in their lives and remove them."
Equally important, second term student, Rachael Cotton, whose goal is to work with 'Doctors without Borders' felt that the activity was a great precursor to that dream. "Today's experience is really meaningful for me personally because part of my career goals is to work with 'Doctors without Borders'. One the main things that they do is go to countries and areas which are underserved to raise awareness about the things that are affecting them," she said enthusiastically, "There are some people here today who have never had a check. To open that door for them is a way of making sure they're keeping their health on track." Rachael lauded the repetitious nature of the exercise where one student could check up to twenty persons one afternoon, and was adamant that with such activities, the students were educating themselves to become good advocates for healthcare.
Consequently, with Islandwide Fitness desiring to foster the relationship, the possibilities look firm for similar experiences for the future doctors of Trinity School of Medicine.