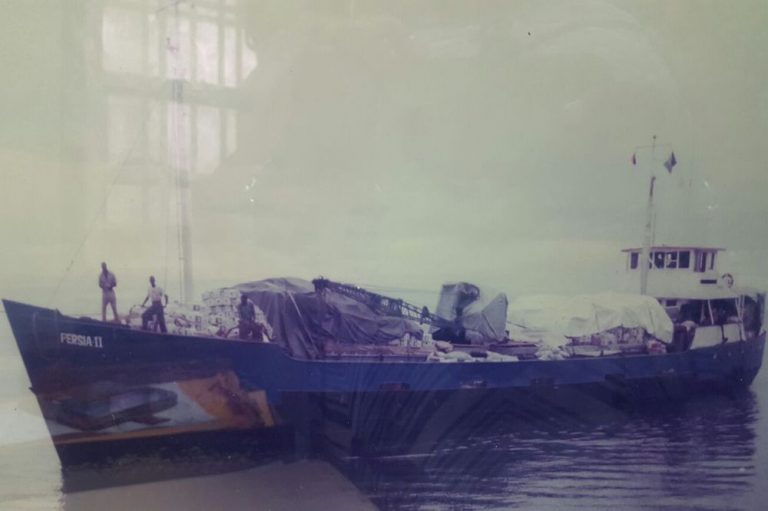 Our efforts to pump out boat were futile – Captain
Hermogenes Watts, captain of the MV Persia II has refuted claims that the sunken motor vessel was not sea worthy.
"We was travelling, we was working," that ship's captain said in an interview with SEARCHLIGHT on Monday.
Describing what happened, Watts said he and his crew left Trinidad at about 6 o'clock last Thursday, en route to St. Vincent.
"Well we lead out around 6 o'clock Thursday evening, and around 1 o'clock in the morning we experience the seas start to get rough, and the ship start to slam and we spring a leak," he said.
Watts, a national of Nicaragua, said at first, the situation wasn't too bad, but eventually, the flow of the water became too much to handle.
"It wasn't so bad, but honestly we couldn't control the gush of water; it was too much water coming in and it was too much to control with the pump," Watts explained.
He stated that they managed to pump out the boat three times, but in the end, their efforts proved futile. The captain said by the time they realized that their efforts were in vain and the boat could not be saved, the Grenada Coast Guard had arrived to rescue them.
Watts is thankful that his life and the lives of his crew members were saved.
A release issued last Friday by the boat's agent Islandwide Shipping said the vessel encountered difficulty with nine crew members on board approximately eight miles off St. George's, Grenada.
"The Motor Vessel was unsuccessful in its voyage to St. Vincent and the Grenadines. Island wide Shipping is thankful to the Coast Guard of Grenada for saving all the lives of the crew members on board. Island Wide Shipping is in the process of notifying customers who lost cargo as a result of this unfortunate incident. The Management and Staff thanks all those who have sent messages, called or visited in this time of sadness," the release said.
In an interview last Friday, Sergeant Roberts of the Grenada Coast Guard told SEARCHLIGHT that they were able to save all crew members, however all the cargo which was being transported went down with the motor vessel.(CM)