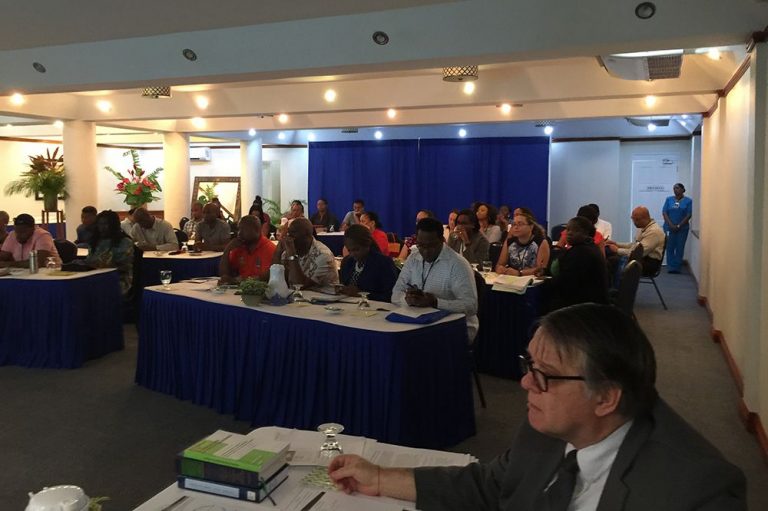 OECS bar association convenes council meeting in SVG
The Local Bar Association last weekend played host to Representatives of Bar Associations from the OECS Region for the 1st Quarterly Council Meeting of the OECS Bar Association for 2017.
On Saturday, March 4, the day began with CPD Training Session at the Beachcombers
Hotel Conference Room where Legal Practitioners heard three presentations from Training Facilitators – Honourable Justice Jacob Wit of the Caribbean Court of Justice and Senior Counsel
Ruggles Fergusson – Past President of the Grenada Bar Association and the OECS Bar Association.
The first two presentations concentrated on various aspects of the "Enforcement of Judgments"
followed by a third delivery on "e-Filing". Both facilitators presented on Enforcement of Judgments; while Justice Wit did e-Filing. These are matters of interest to both Practitioners and the general public at large.
The ideas were canvassed, and particularly in light of the growing use of technology in Court administration; and the long term savings likely rebound to all parties.
One of the main features of the gathering was the convening of the Council Meeting after lunch, where members of the Council deliberated on matters concerning the enactment of Legal Professions Act, Regulations and further Law Reform Legislation; Registry and Court facilities and the need for projects to assist with Access and Impact of Justice across the sub – region.
The Day closed with the Highlight Event at a Dinner and Award Ceremony at Young Island Resort where three former Attorneys General were recognized for their long and outstanding Service at the Bar. They are the Messrs. Arthur F Williams, Carlyle Dougan Q.C. and Emery Robertson who collectively have 138 years of experience.
They were called to the Bar in 1969.
Arthur Williams served as Attorney General from 1982 – 1984 ;Emery Robertson from 1984 – 1986 and Dougan Q.C from 1995 – 1996. Williams was an elected member of Parliament from 1974 – 1984 and served as Minister of Communication & Works as well. Dougan served as the First Vincentian DPP and SVG's High Commission to the UK from 1998 – 2001.