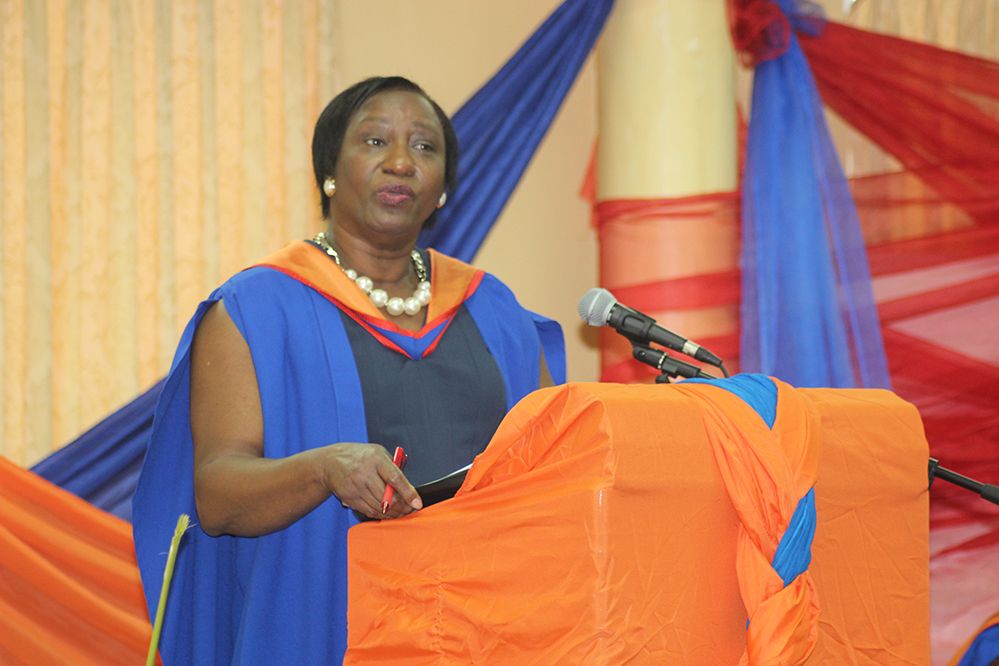 Graduates advised to be prepared to reinvent themselves
Reinventing one's self, being brave enough to take risks and not giving up are some of the qualities that must be embraced if one wants to be successful in life.
Persons in attendance at the University of the West Indies (UWI) recognition of graduates ceremony held at the Methodist Church Hall in Kingstown last Friday, February 24 heard these words of advice from the event's feature speaker Stacia Morris.
Morris is the Director of Delivery at Ciber, a Company with over 40 years of experience in IT Consulting, Managed Services, IT Application Development and IT Outsourcing.
Setting out a road map to success, Morris told the gathering that a number of things must be done to ensure success in whatever career is chosen.
Speaking around the theme, "Being ready, getting set and reinventing," Morris said that one must have plans and be ready to execute those plans, be flexible because life happens, take risks, work really hard, make sacrifices, be resilient, educate yourselves (you have everything at your disposal because of the Internet), don't make the same mistake twice, have passion and have fun, talk to persons and have a network, don't feel bad to cut off negative people and maintain intellectual curiosity.
She said that many times, persons "false start" but that is not a problem as false starts allow for reassessment and reinventing oneself and that can lead to change.
Morris who is from Layou started her career as a teacher at the Girls' High School (GHS). She later moved to the Bahamas where she taught for a while and then moved on to the United States despite being advised not to do so. She said that if she had listened to persons, she would not have achieved what she has.
"Don't listen to people, follow your gut. Educate yourself," said Morris who also spoke about the importance of being a mentor and having a mentor.
"Every step of my journey I reinvented myself through education and learning new skills," said Morris who told the graduates that they must decide who they want to be and not be distracted.
"Decide who you are. Are you going to be a person who going to tell the truth no matter what? Be known for something," stressed Morris who had 11 jobs during her working life and spent 18 years working at IBM.
She said that at one point in her life, she had no road map but was set up to be effective and to reinvent herself so she succeeded.
Morris has a Bachelor of Arts (BA) in economics and history, a Master of Business Administration (MBA) in Computer Information Systems (Pace University) and a Post MBA Certificate of Advanced Graduate Studies-Accounting (Pace University).
This year's ceremony saw 62 persons graduate from various educational programs with BSc and Bachelor of Education (B.Ed.) degrees obtained at the local UWI Open Campus, the Trinidad based St. Augustine and the Jamaica based Mona campuses.(LC)