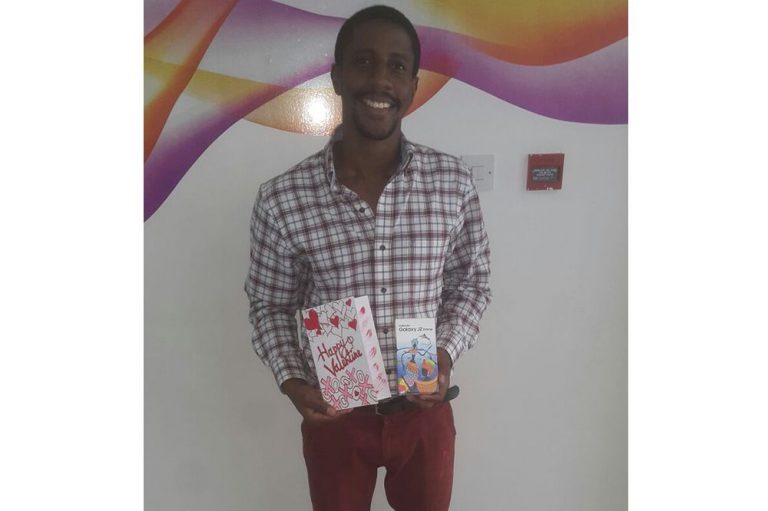 Creativity wins Flow customer smartphone
Rondel Dickson's love and passion for art and his creativity has earned the designer not only a new smartphone but a chance to have his work seen by thousands of persons.
Dickson is the winner of FLOW's Valentine's card making competition and as a result, his card is going to be recreated and used in FLOW's 2018 Valentine's Day promotion. The Arnos Vale resident also received a Samsung Galaxy J2 for his efforts.
Marketing and Communications Manager at FLOW Nikala Williams said that Dickson beat some 25 other persons to take the top spot in the promotion.
Dickson said that he was waiting in line at FLOW to access a service when he saw an advertisement on a poster and decided to get involved.
"I noticed a card and said I could do a lot better than that so I had the idea in my head and I put it on paper because I have experience with drawing," said Dickson who revealed that for the words in the card, he used a life experience.
"My creativity came out thanks to FLOW. I feel great because I just put the new phone I won in a nice case so I am thankful my creativity brought something to me. I have been involved in art since I know myself I use to do art growing up as child. Parents don't push children to do art but my mom pushed me in art. I did it in college and I was always creative," explained Dickson.
He said that he is proud that the card will be used in the 2018 promotion.