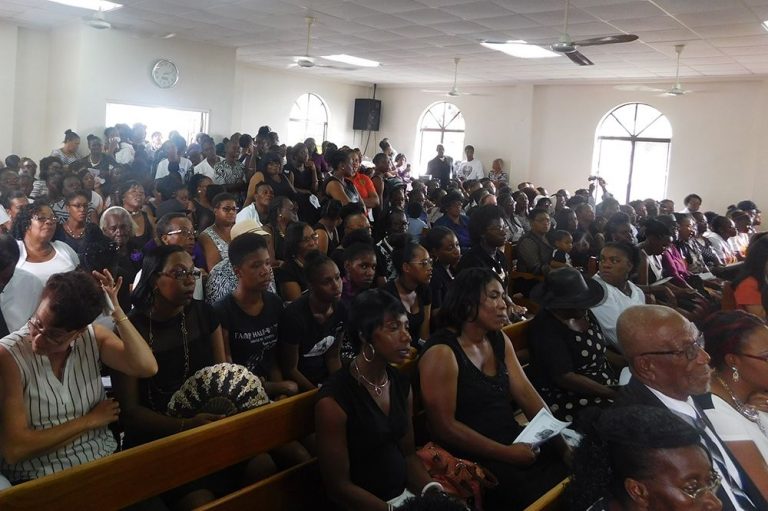 Bishop urges parents to ensure safety of youths
Bishop Julius Louis, the pastor at the Faith Deliverance Church has appealed to parents to work assiduously to ensure that the nation's youths are home before midnight.
"Things happen at midnight, spiritual things, spiritual things and spiritual forces. There is a war, there is a battle, a real battle for lives at midnight," he said, adding that in less than six months, six young lives have been lost after midnight.
This message was reiterated during his sermon at the funeral service for Aziza Dennie held at Faith Deliverance Church, Redemption Sharpes, on February 26. Dennie, 19, of Redemption Sharpes, lost her life on January 29 in a deadly collision in Graeme Hall, Christ Church, Barbados.
Louis began his sermon by pointing out that there is an occurrence in the nation that warrants grave concern, "but thank God for the opportunity this afternoon for me to bring it to us and I trust by God's grace it might go much farther from here."
The Bishop pointed out that a few months ago, a young college student's life was taken by way of accident after midnight somewhere in the countryside. He was referring to 17-year-old Kiara Shortte, a past student of the Marriaqua Government School, the Argyle Primary School and the Adelphi Secondary School, who died on the spot on Friday August 19, 2016 when the black SUV she was a passenger in went over an embankment, while travelling along the Hopewell public road in the Mesopotamia Valley.
"In December, a young lad, a college student lost his life after midnight and just a couple weeks ago, [three] young college students lost their lives after midnight," he added in reference to the death of Onixy Hamilton and the accident in Barbados in which Dennie, two of her classmates and a Barbadian man died. Hamilton, a second year student at the St Vincent and the Grenadines Community College, died on the spot on January 1, when the car he was driving slammed into a wall at Chateaubelair.
"Have we ever stopped and asked ourselves the question of the spiritual battle that we are in for our youths? Did anyone stop to think how many of our young people, after midnight, are meeting their death?" Louis asked the congregation.
He said in Exodus, after midnight, the death angels passed over persons whose houses had lamb's blood over their doorway.
"Midnight is a very critical, essential, sensitive time in the life of humanity," Louis added while pointing out that Paul and Silas also prayed at midnight.
"The enemy is stopping at nothing but to ensure that our future, bright future, prospective future is taken out before they can achieve and accomplish all that."
According to the Bishop, there is something called untimely death. While extending his condolences, he also pointed out that Dennie had given her life to Christ sometime before the accident.
At the funeral, condolences were expressed by Director of the St Vincent and the Grenadines Community College (SVGCC) Nigel Scott, while and students and staff of the SVGCC's Technical Division, in which Dennie was enrolled, paid tributes.
Senator Deborah Charles also expressed condolences on behalf of the Ministry of Education.
Additionally, Kemelius Boyea, one of the Vincentians who survived the accident, paid a touching tribute in song.
Dennie was one of three female students of the St Vincent and the Grenadines Community College (SVGCC) who perished in a vehicle accident in Barbados on January 29, while on an internship at the Crane Residential Resort. The other students were Danee Horne, 17, of Questelles and Carianne Padmore, 18, of Simon (New Prospect), Biabou. (AS)