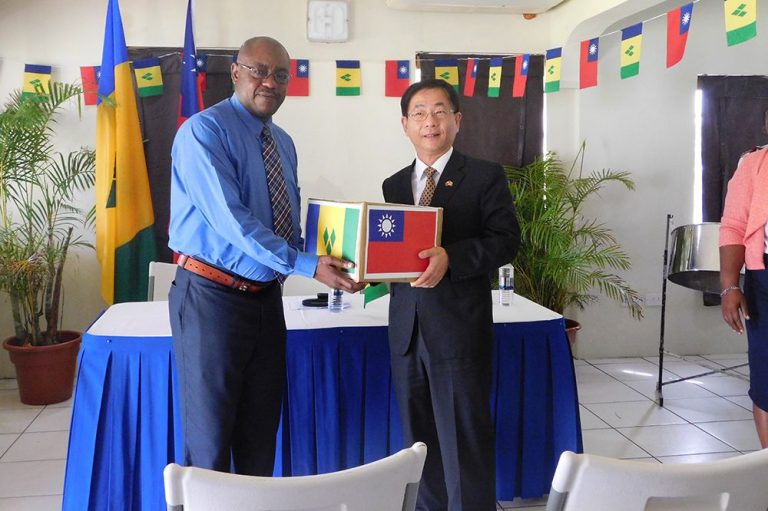 National Mobilization receives items valued at US$93,000 from Taiwan
A quantity of items valued at US$93,000 has been donated to the Ministry of National Mobilization by the non-profit organization Simply Help.
The goods, handed over at a ceremony, which took place at the President's Suite at the Arnos Vale Playing Field on Tuesday, will be used to provide relief to families who were affected by Tropical Storm Matthew and other weather systems which affected St Vincent and the Grenadines in 2016.
The Simply Help Foundation was founded in 2000 by Tina Bow and other likeminded Taiwanese living in Los Angeles. And, according to Ambassador for the Republic of China on Taiwan (ROC) Baushan Ger, he contacted Bow when the trough systems affected the island.
"The first working day after [the] trough system, I personally telephoned Tina Bow of Simply Help Foundation to see if there is anything she and her co-workers in the organization could do to help the people in the affected areas," Ger stated.
He noted that she agreed without hesitation to send a container to St Vincent and the Grenadines as soon as she was able to. The container includes 562 boxes of food, housewares, clothes, shoes, socks and baby items, among other things.
Ger also pointed out that many of the donated items were given by Vincentians living in Los Angeles.
"The collaboration between the Taiwanese and the Vincentian diaspora in LA demonstrates the very special and strong relationship that exists between the two countries."
He stated that he knows that the trauma caused by disasters last year is deep and would take time to recover.
"The donation today will only be a little help, but I firmly believe that the people of St Vincent and the Grenadines are strong and resilient and they will come out from the sorrow and move forward…"
This is the second time the organization has donated to SVG in the last two years. In 2016, the Foundation provided assistance in the sum of US$57,000 in support of underprivileged women and children.
The ROC, in an effort to help in the recovery works after the passing of Tropical Storm Matthew and the subsequent trough systems donated US$150,000 to the Government of SVG.
Minister of National Mobilization Frederick Stephenson, during his remarks, thanked the Simply Help Foundation for their donation.
"It is our hope that the said items would be distributed to the identified communities and households within this following week," Stephenson said.
He noted that the recipients of the donations were filtered through the Ministry of National Mobilization and observed that the constituencies of North Windward and North Leeward recorded the most damage to both livelihood and infrastructure.
Stephenson stated that loss assessments were conducted and the persons worst affected were referred to the relevant authorities, so that their lives could be restored to a semblance of normalcy.(CM)