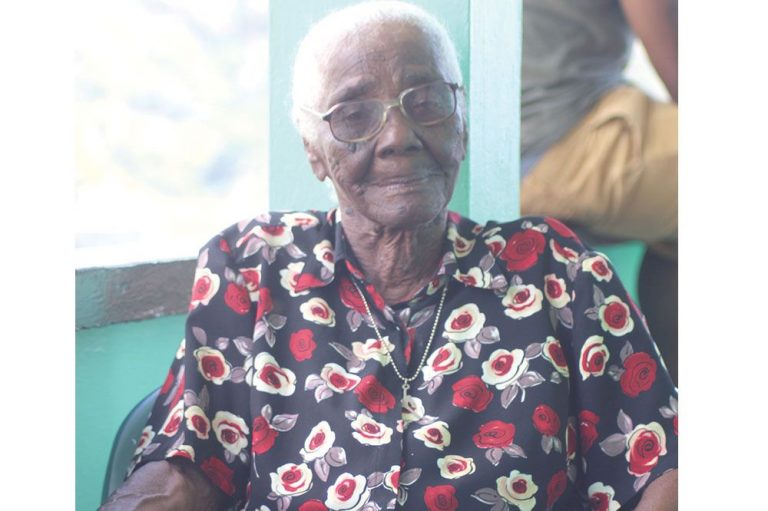 Only God know why he choose me…I'm still alive; give God his thanks…
A lot of things have changed since Olive Samuel was born on February 24, 1917, but one thing has remained the same for the centenarian, her faith in God.
"I must have my saviour with me. I dare not walk alone…what a sweet Jesus," said Samuel last Wednesday, while sitting on the porch of her Lower Questelles home.
Originally from Upper Questelles, Samuel celebrated her 100th birthday last Friday, February 24, with friends and family, but before her birthday, she gave an interview to SEARCHLIGHT.
Samuel said that she went to primary school in Questelles and after leaving school went straight to work as a labourer, doing road work for 12 cents a day.
Samuel later migrated to England, where she spent 15 years working as a chicken farmer before returning to St Vincent and the Grenadines.
"I came back because I was fed up of the cold. I came in the banana boat… and that took [about 27 days], passing different ports like Santo Domingo," recalled Samuel, whose eyesight is not what it used to be, but who still hears very well.
The mother of four children, only one of whom is still alive, attributed her long life to the grace of God and a number of life choices, including hard work and good, clean eating.
"I cannot really say why I live so long; only God know why he choose me…I'm still alive, give God his thanks…my mouth not worthy enough to praise him", said Samuel, who revealed that when she was young, food was grown in healthier set-ups with cattle dung and other types of organic manure.
She said that her favourite foods are breadfruit, tannia and dasheen and her meats of choice are chicken and turkey. She also likes salted fish.
The elderly woman said that in her younger days, she remembers walking long distances such as from Gorse in North Central Windward to her home in Questelles in South Leeward.
"I'm not sure how long that take. I didn't check the time; I was just hustling," recalled Samuel, who added that there were only a few cars and buildings back then and a trip to town in a bus (originating from Clare Valley) cost 25 cents. She said that trips overseas were mostly by banana boat.
Samuel, an ardent churchgoer, said that while she is happy with her life, she would like to see the youths turn away from the life of crime that a lot of them are living.
"I'm telling you, the worst thing I meet up is the young children these days. They have no respect. I used to left me door open, go town, go all about, but not now, down to your animals them ah go with it. I done experience those things," said the member of the Apostolic Faith Church in Campden Park.
"The area look nice, nice houses and so on, but some of the people too miserable, but you have to left them to their ways; only God could change them," said Samuel.
She added, "I will like the young people to behave and come to Jesus; he will save them, save their life. Some of them cannot change unless God change them because they done make up their mind. Some the words you hear, and killing people; some of them don't want church, but yet when them dead they taking them church, but that don't make sense."
The lively woman said that she is grateful for her many blessings that include having good family members around her who take very good care of her. She said that a van picks her up every Sunday and takes her to church and she is very grateful for that.
"I go to hear the word of the Lord, sun or rain," stressed Samuel, who has a slight problem walking.
"They (her family) looking after me. God send them to me because some people don't want to see you; they will put you to poor home," said Samuel.
When questioned about her remaining time on earth, Samuel answered, "only God know how much more I have. I will live more than the 100. I trust that and I give God the thanks, he is the one that have me."
Samuel's caretakers include Sharon Alexander (married to Samuel's nephew), family members Beaulin Caesar, Calvin and Clarisse Alexander and Gideon Stapleton.
Sharon described Samuel, "as a very strong person" and one who helped her family when she went to England.
"She is a very giving person and very diplomatic. She gave lands to family members, so because she helped so many persons, she's getting back what she sowed in life; she's reaping," said Sharon.
On Friday, Samuel celebrated her birthday in fine style. She had visits from neighbours and family members and spent the day with, among others, nieces and nephews from England and the United States. Her first grandson, Uriah Caesar, was also there.
"I feel good to see she has lived so long. It was hard work; she worked a lot in her young days and eat good solid food," said Caesar.(LC)