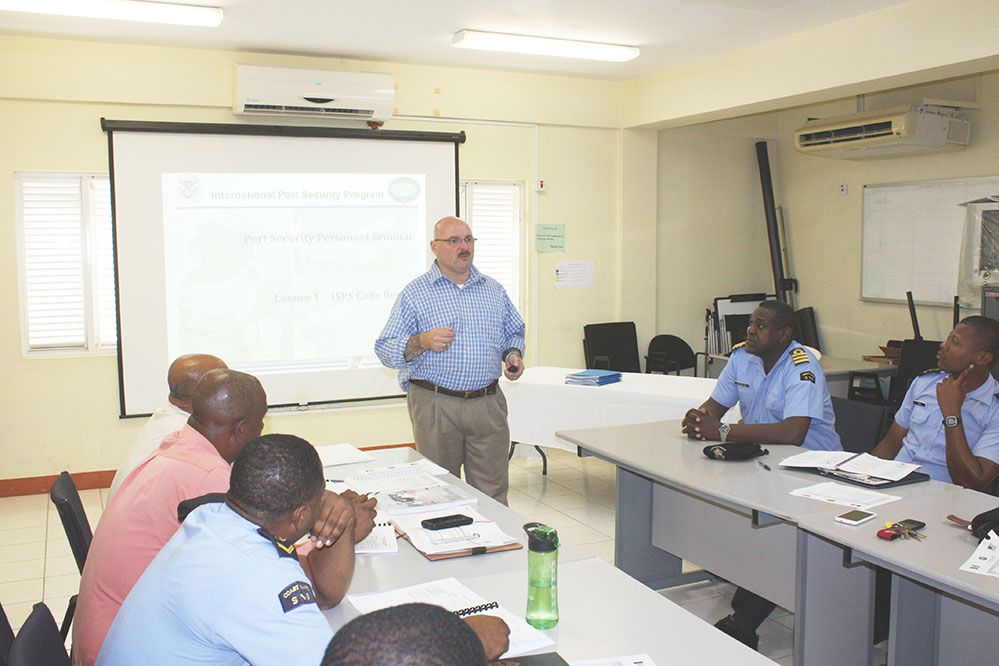 Port security personnel equipped to beef up security at ports
The 2017 SVG Capacity Building Port Security Personnel Seminar concluded yesterday, February 23, with several port security officers here being better equipped with the tools to provide security at our ports.
The workshop started in earnest on Tuesday, February 21, 2017, at the National Emergency Management Office (NEMO), with representatives drawn from the Coastguard, Port Kingstown, the Police Force, SOL, ECGC, and Guardsman.
The workshop was held to provide port security personnel with additional knowledge and insights into the following areas: International Ship and Port Facility Security (ISPS Code); recognizing and responding to security threats; and inspection, control, and monitoring activities.
Lieutenant Commander Matt Rowe, of the United States Coast Guard International Port Security Programme, said the aim is to reach all partner countries. St Vincent and the Grenadines is a nation that the United States is heavily tied too, especially with cargo and passenger vessels, Rowe said.
"We are here to share what we know and to learn what your security professionals know to increase the security at the ports across St Vincent and the Grenadines," said Rowe, a facilitator at the workshop.
Local Coast Commander Brenton Cain explained that the Coastguard is the designated authority to monitor the security at all ports in St Vincent and the Grenadines.
Commander Cain said the United States decided to partner with the designated authority in staging the seminar, so all ports here will be on a common platform.
Lieutenant Commander Dean Horton, the US Coast Guard International Port Security Liaison Officer and Lieutenant Commander Charlotte Keogh, US Coast Guard, joined Rowe as facilitators at the seminar.