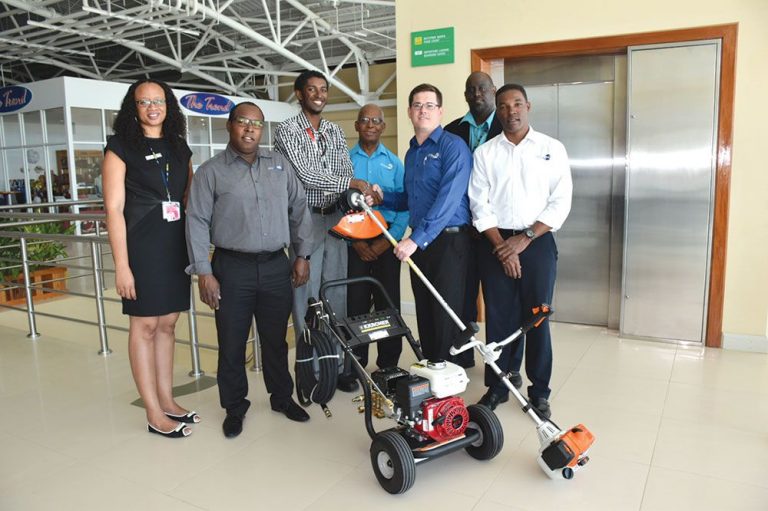 OSV Group donates maintenance equipment to AIA
The OSV Group has donated a Karcher Pressure Washer and a Stihl Weed Trimmer to the Argyle International Airport (AIA).
Last Tuesday, during a brief ceremony at the AIA, Scott Ward, OSV head of Industrial/Hardware Sales, handed overthe maintenance machines to Eddison Edwards, AIA's assistant engineer ­– Civil & Building.
Stevie Sutherland, OSV Group marketing manager, said in a release that maintenance of AIA is an integral part of its survival and OSV Group stands by its promise of demonstrating levels of integrity and commitment.
"Exactly one week ago, the official ceremony was held for the opening of the Argyle International Airport. The level of pride amongst Vincentians was undeniable. Today, we, the One St Vincent Group, stand proud as a company that recognizes the importance of AIA and the many benefits which it holds for all Vincentians. We would like to express how elated we are for this opportunity to make a donation to the AIA, one we believe would aid significantly in the maintenance of this facility," said Andre Sutherland, OSV Group Signs and Graphics manager at Tuesday's handover.
The OSV Group marketing manager added: "Today's donation is just another testimony of our slogan, 'One company….many Solutions'. At OSV Group, we have the unique advantage of offering a diverse range of products to the market and our goal is to provide solutions that meet our customers' needs. This donation is one of the ways in which we are fulfilling a need with a viable solution. We trust that the relationship we have fostered with AIA will continue to grow and we are proud to know that we, too, are now a part of history with this donation."
Edwards thanked the OSV Group for taking the initiative and demonstrating a commitment to a positive outreach.