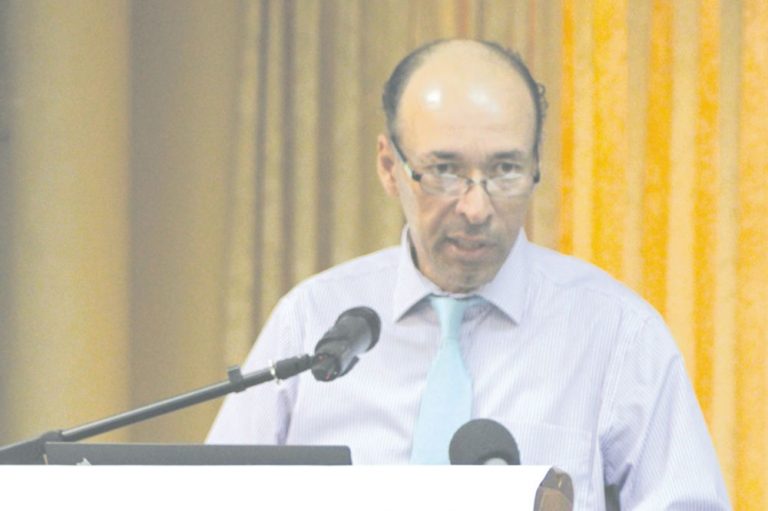 NTRC seeking to increase broadband penetration rate – Knights
Director of the National Telecommunications Regulatory Commission (NTRC) Apollo Knights says that from surveys done, his organization is not happy with the level of Internet penetration, quality and pricing here.
The NTRC was established to coordinate an effective telecommunications regulatory regime to enhance the operation of telecommunications in the interest of the sustainable development of St Vincent and the Grenadines (SVG) and according to Knights, while they have done a number of things, a lot more needs to be done as it relates to the Internet/broadband.
On February 16, speaking during the last of five broadband consultations held here, Knights said that the consultations are part of a plan to bring faster, more consistent, more affordable Internet to citizens over a five-year period, starting this year.
He said that since the NTRC was established, the mandate was to bring more Internet to those who didn't have it. Knights said that while the Universal Service Fund (USF) has helped solve some of the issues, the NTRC is still not happy.
"We have done some things since then, but I think we need to do more," said Knights, who noted that water penetration rates as at 2012 was about 77 per cent, while electricity is about 90 per cent. He said that Internet penetration rates were 35 per cent in 2013 and that has now risen to 52 per cent (December 2016), but that should be more because now, Internet, like water and electricity is considered an essential service.
"…52 per cent is quite good comparable to other countries, but we have to look at the other end where 48 per cent of households don't have Internet and if one was to have 48 per cent of households without electricity or water tomorrow, it would be considered a national disaster, like if we had a hurricane," said Knights, who added that if the electricity and water penetration rates were at 52 per cent, the Government would "do all kind of things" to get an increase.
"We want to bring the Internet penetration levels up to those of water and electricity and the international level as the UN in 2016 designated broadband as a human right," said Knights, who also stressed that we are at a disadvantage when it comes to pricing.
He said that we pay about US$33 for two megabytes per second (mbps), but the reality is that the prices around the world are similar to our cheapest price, but the speed is different, with some countries getting up to 1,000 mbps for the same price.
"So, we have similar prices, but in some cases, 500 times less in terms of speed, two mbps as compared to 1,000 mbps," explained Knights.
The NTRC head is hoping that the consultations can help address some of these issues.
The consultation also heard from executive director of the Chamber of Industry and Commerce Anthony Regisford, programme officer International Telecommunications Union (ITU) Sylvester Cadette, senior economist in the Ministry of Economic Planning, Sustainable Development, Industry, Information and Labour Tricia Pompey and CARCIP consultant Richardson Franklyn.
Attending were Minister of Transport and Works Julian Francis, Minister of Economic Planning, Sustainable Development, Industry, Information and Labour Camillo Gonsalves, Leader of the Opposition Dr Godwin Friday and country manager at FLOW Wayne Hull.