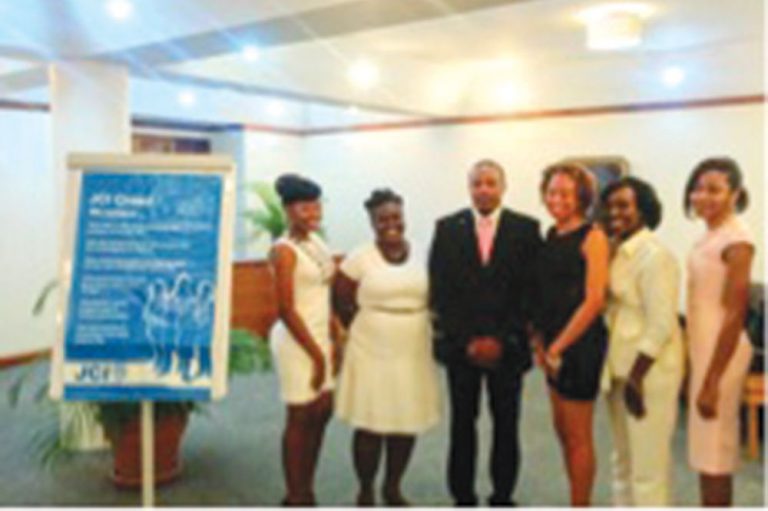 JCI installs elected officers for 2017
Two former past presidents of Junior Chamber International (JCI) have been awarded senatorships by the organization.
Phillip Cambridge and Gary Matthias are the two newest senators and now are non-voting members for life in the leadership training organization.
They received their awards on Saturday, January 28, as JCI St Vincent hosted its annual ceremony to install the elected officers for 2017.
A motivational message was delivered by the NOM president and the national vice-president of JCI West Indies, followed by the local president, Keithaa James. The message relayed that JCI is a global organization that volunteers, creates development opportunities and community services and empowers young active citizens to create positive changes in our society. The 2017 theme for JCI St Vincent was outlined as "Merging Vision with Mission to synergize Action". Persons were encouraged to recommit themselves with a renewed passion and make use of the opportunity to develop, take ownership and be accountable for bringing about positive change in their communities.
The elected officers were sworn in, pledging their commitment to serve and lead the organization for 2017. The executive consists of: president Keithaa James, vice-presidents – Gabriel Glasgow and Ricky Haynes, secretary – Shanniese Stewart, treasurer – Shanelle Compton and legal counsel – Mandisa Stephens.
Awards of appreciation for partnering with JCI St Vincent were given to the Vector Control Unit, Royal SVG Police Force, Digicel, M.A.S.A, Health Solution Inc and the Planned Parenthood Association. The 2016 officers were also recognized for their service during their tenure in 2016. Members received awards for best chairperson, Training facilitators, for participation in debating at the NOM Convention held in Barbados in 2016 and executive of the year.
The Junior Chamber International (JCI), formerly known as Jaycees, is a leadership, non-governmental organization with the main objective of providing development opportunities to young active citizens to foster growth and impact within our communities.