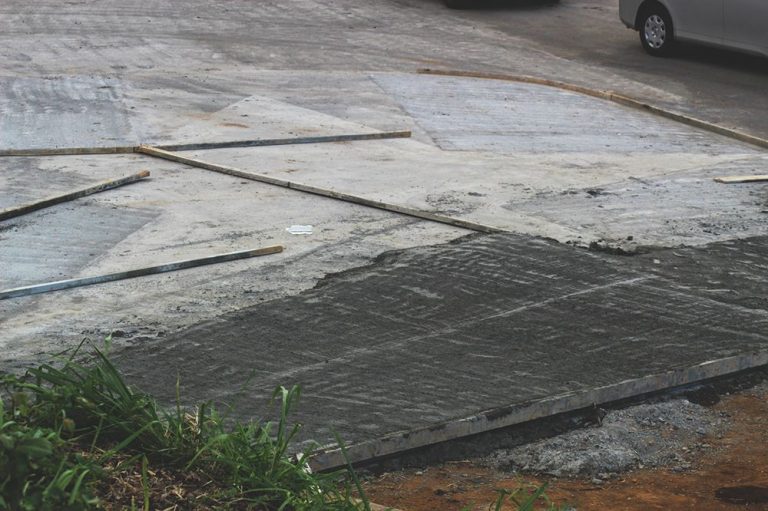 Controversial party symbol removed from Argyle Airport road
The star that greeted persons accessing the driveway leading to the control tower at the Argyle International Airport (AIA) has been removed.
The casting of the star in the concrete of the driveway created much discussion on talk shows and social media, but according to Prime Minister Dr Ralph Gonsalves, "…it was an episodic occurrence and that's behind us."
The existence of the star first came to the attention of the public on Monday, February 13, the day of the unveiling of the plaque at the AIA.
Gonsalves, speaking on BOOM FM's OMG in the morning on February 15 with Dwight "Bing" Joseph, said that the placement of the star was wrong and when he heard about it, he immediately called chief executive officer (CEO) of the AIA Dr Rudy Matthias to find out about the symbol.
"You can't agree with that; properly it is wrong, no question about it," said the Prime Minister live on radio.
"…In the excess of zeal, this matter was done by some people…it was partially corrected the very same day," said Gonsalves, who added that he has been assured by the CEO that all of it would be covered.
When SEARCHLIGHT visited the site on Wednesday, the star could be partially seen, but it was obvious that it was being removed, as concrete had already been poured on part of it. The removal was completed yesterday, Thursday.
"…I don't know whose idea…I don't condone, but I understand human impulses; people working on something, they just, is like they get carried away, but if sufficiency of reflection had been put in place, that would have provided a restraint," said Gonsalves.The star is the symbol of the Gonsalves led Unity Labour Party (ULP).