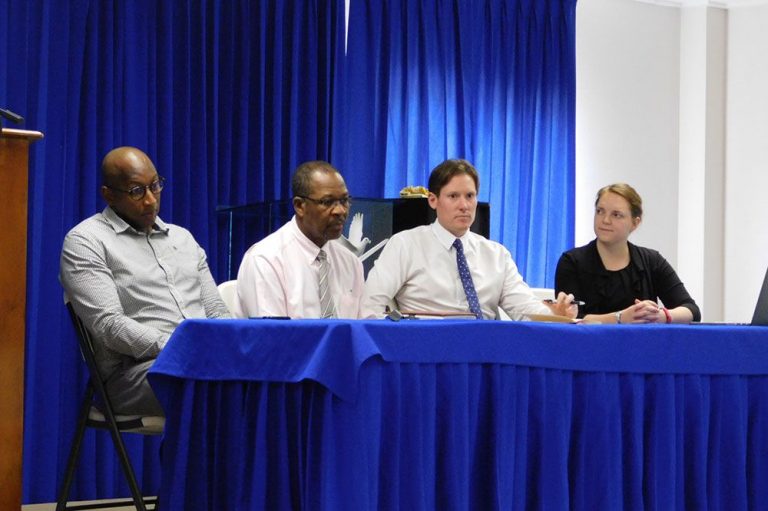 Transition to renewable energy – consultation on options for SVG
Studies geared towards implementing an energy transition through an Integrated Resource Plan (IRP) continued last week with a consultation.
These studies began on October 16, 2016, when the Government and St Vincent and the Grenadines Electricity Services Ltd (VINLEC) signed an agreement with non-profit organizations the Rocky Mountain Institute and Carbon War Room (RMI-CWR) to implement the IRP.
The international organization is tasked with assisting the Government and VINLEC to implement a cost effective shift from fossil fuels towards the use of a mix of renewable energy.
Speaking at the consultation held at Frenches House, senior associate at RMI Kaitlyn Bunker disclosed that so far, the organization has completed the individual resource assessment in energy efficiency.
She said the renewable resources studied so far include solar, wind, hydro, geothermal, natural gas and turning waste to energy. The RMI-CWR must now convert these resources into scenarios that would help determine potential future options for the country.
Bunker said the scenarios include continuing to use diesel, hydro and solar energy as well as implementing energy storage and new solar resources that may couple well with the geothermal project.
Investigations are also being carried out from an energy perspective (how it would operate) and from an economic perspective (what the costs and economic impacts would include).
The RMI senior associate said the organization has established three key goals, which include finding a solution that provides the least cost option, maintaining or improving the reliability that they have today in the electricity system and taking due consideration of resources, while looking at opportunities to use local resources in a more diverse mix of resources.
She said as they complete their analysis, future options would be measured against their goals to help determine which options are best.
Additionally, Bunker said that the organization is exercising a holistic approach to examining what would be the overall cost and its impact on residents, businesses and VINLEC over a 15-year period.
Also speaking at the consultation, director of the Island Energy Program at RMI-CWR Justin Locke said the Caribbean is at a very critical juncture in its history with regard to decisions made in the energy sector.
He said these decisions would influence the long-term sustainable development of Caribbean countries for generations to come and cannot be taken lightly.
Locke said transferring the current generation to a mix of renewable energy is a very complex system and has to be done in a "thought through" manner.
The IRP process has three specific phases, namely the fact base and process alignment, assessment of current energy system and development of future energy scenarios and strategy development, implementation and business plan.
Among the activities to be carried out in SVG are data collection, data analysis, forecasting for electricity demand, examination of resources, cost/benefit analysis and selection of an optimal model.
Rocky Mountain Institute and Carbon War Room act together as an independent, objective advisor to governments and utilities to ensure that the transition is done in a responsible and well thought through manner.
Ellsworth Dacon, director of the Energy Unit and Thornley Myers, CEO of VINLEC both contributed to last week's discussions and answered questions from an audience that consisted of members of the energy sector and some fuel company representatives.(AS)