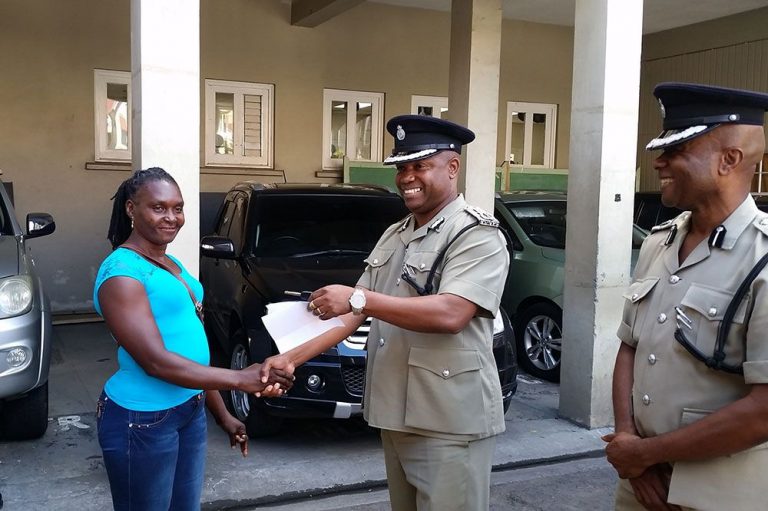 Lucky Mespo resident wins Honda CRV in RSVGPF raffle
Mesopotamia resident Paulina O'Garro is the winner of a reconditioned Honda CRV, raffled by the Royal St Vincent and the Grenadines Police Force (RSVGPF).
Last Friday at the Central Police Station, O'Garro was handed the keys to her vehicle and one year's registration and insurance by Deputy Commissioner Colin John.
She thanked the police for the opportunity to win the vehicle.
"I am happy to know that I am the winner of the vehicle," she said.
Carlos John, the second prize winner of a Samsung S6, said that he was a bit disappointed after he realized he won second prize.
"The phone I have right now isn't working good, so it come in just as good as if I win the jeep," he said.
John stated that he has always supported the raffle and knows one day he will win the top prize.
Winner of the third prize was Bequia resident Hosina Stowe, who walked away with a 32" television.
Speaking at the handing over ceremony, Deputy Commissioner Colin John congratulated the winners for supporting them in their fund-raising venture.
"The police look forward to the public for your support in more ways than one. One way is the raffle…," he said.
John added that the winners must make the best use of their prizes.
"I want to thank you for your support and ask you in future to continue to support us and give us information as regards fighting crime which is our major area in terms of law enforcement in St Vincent and the Grenadines," John stated.
The raffle was drawn Friday, February 10, 2017 and was initiated to raise funds for the police cricket team's participation in the regional security system cricket tournament.(CM)