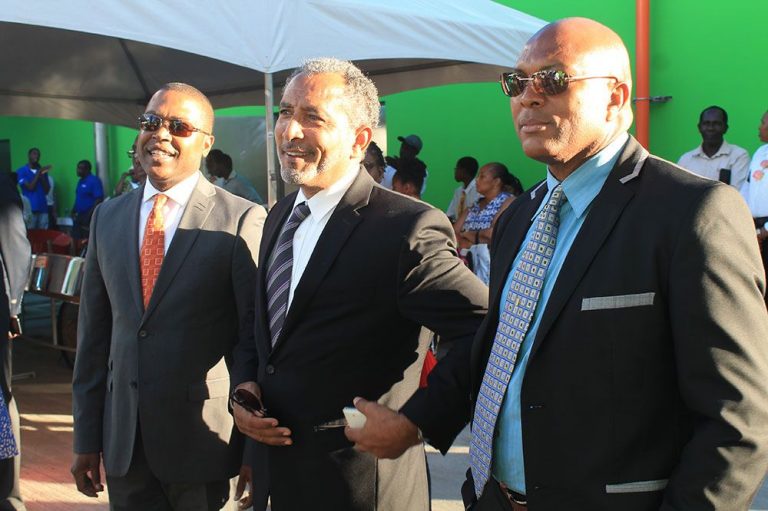 Opposition members show support for successful opening of AIA
Despite speculation that members of the Parliamentary Opposition would not attending the opening ceremonies of the Argyle International Airport, some members turned up for the flag raising ceremony on Monday, with at least one member attending the Opening Ceremony on Tuesday.
When members of the public realized that Leader of the Opposition Dr Godwin Friday and other Opposition members were at Monday's ceremony, the crowd burst into loud applause and cheers.
Friday told SEARCHLIGHT that despite the concerns of the New Democratic Party (NDP) about the AIA, they support the successful completion and operation of the airport.
He said because the project is a national one, it is important to the country and everyone is paying for it.
"… Everybody's hopes and dreams are involved in it and it is important that we are here to show that despite all of our concerns, many of which still remain, that we support the successful completion and operation of the Argyle International Airport," Friday stated.
He said their support for the airport will continue, despite speculation.
Opposition representatives Terrance Ollivierre, Daniel Cummings, Nigel Stephenson and St Clair Leacock were also present, along with other high ranking members of the party Benjamin Exeter, Shirlan 'Zita' Barnwell and recently elected public relations officer Laverne King.
While making remarks at the flag raising ceremony, Sir Vincent Beache, not being aware that the Opposition members were present, said they were "stupid" for not attending.
Beache is a former representative for South Windward (the area where the airport is located) and board member of the International Airport Development Company.
"That's where I thought that the Opposition was stupid …they should have been here to take part in the kudos, because is their study we use. No, but instead of that they made all kind of foolish remarks, even wishing that it would wash away," Beache stated.
The airport development study used by the present administration was commissioned by the NDP in 1999 under the leadership of Sir James Mitchell.
After being alerted that members of the NDP were in fact in attendance, Beache stated: "They are here? I am glad."
Member of Parliament for Central Kingstown St Clair Leacock also attended the Opening Ceremony on Tuesday, February 14.