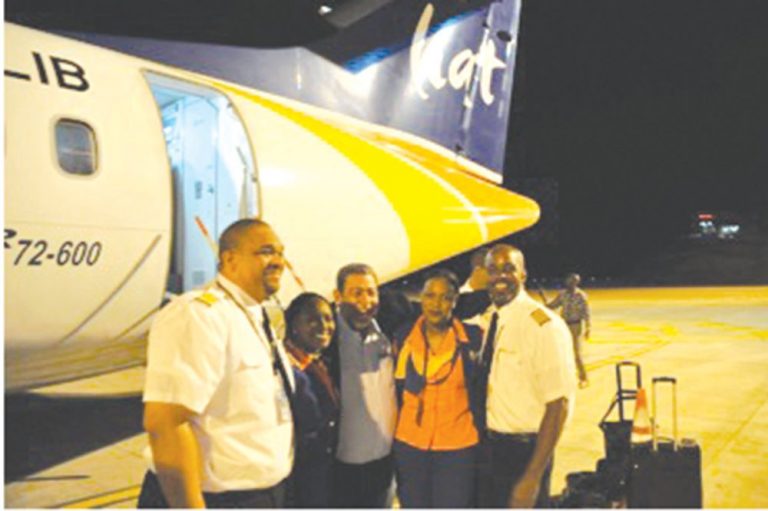 LIAT congratulates SVG on opening of Argyle International Airport
Regional airline LIAT has extended congratulations to the Government and people of St Vincent and the Grenadines on the opening of the Argyle International Airport for commercial aircraft operations on February 14, 2017.
"LIAT was proud to be the first airline to operate out of Argyle International Airport and to be a part of this historic occasion. The Chairman as well as the Board of Directors, the Management and staff of LIAT extend heartiest congratulations to the people of St Vincent and the Grenadines. The new state of the art facility is a monument to the hard work and dedication of its people," the release said.
Flight LI 560 departed with 28 passengers bound for Barbados. The passengers were treated to gift bags from LIAT upon check-in and a surprise visit from SVG's Prime Minister Dr Ralph Gonsalves.
The airline operated the last flight out of the ET Joshua airport on the night of February 13 and ferried its overnight aircraft from the old airport at Arnos Vale to the new airport at Argyle. The ferry flight saw Prime Minister Gonsalves, along with his wife, senior management from LIAT, including the chair of the Board Dr Jean Holder and officials from ICAO and ECCAA, as well as government officials enjoying the short flight. On touchdown at Argyle, Prime Minister Gonsalves congratulated the crew on a smooth touchdown and wished LIAT all the best in its operations out of Argyle.