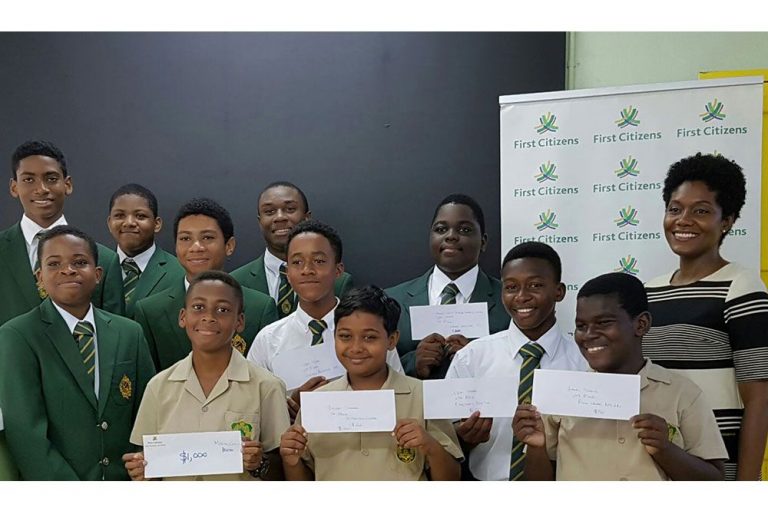 First Citizens takes part in social responsibility programme
First Citizens Investment Services Ltd, in a three-phased project, has undertaken the restoration and enhancement of the roundabout area at the St Vincent Grammar School. Phase one saw the investment of $20,000 into the rehabilitation and beautification of the Grammar School roundabout area in partnership with the proprietor of Pitt Stop, Keith Francis.
To ensure the maintenance and sustainability of the project undertaken, phase two entailed partnering with the Environment Club of the St Vincent Grammar School via a poster and an essay competition, around the theme of stewardship of our environment – 'Cleaner Space through Reducing Waste'.
The winners of these competitions were presented with prizes at the school's general assembly on Monday, February 6, 2017, when the project was officially launched.
The winners are as follows: Marac Creese – 1st Prize – Poster; Rayshaun Dickson – 1st Prize for Essay Competition; Kareem Andrews – 2nd Prize for Essay Competition; Cimalon Hamilton – 3rd Prize for Essay Competition.
The third phase of the project will see the winning poster painted as a wall mural at the base of the assembly hall, as well as the stewardship for the area rotated via the Environment Club to all forms of the school. The Environment Club has also started a vegetable garden at the back of the school.
The project was implemented as part of First Citizens' corporate social responsibility programme, under its C.A.R.E initiative.