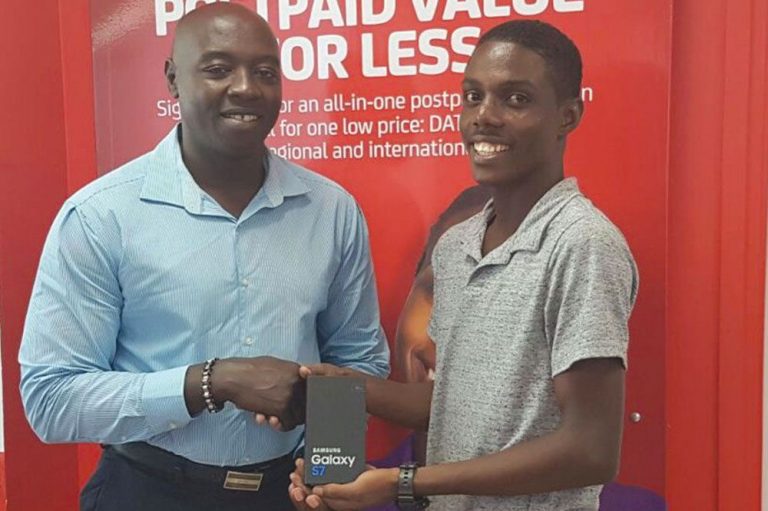 Customer wins Samsung Galaxy S7 after topping up $10
Redemption Sharpes resident Aldrick DeShong is Digicel SVG's latest winner, having won himself a brand new Samsung Galaxy S7 on Tuesday, February 7, 2017.
DeShong became eligible to win the smartphone after topping up $10 on January 31 and was automatically entered into a top up promotion draw. The S7 Top Up campaign, which was launched on Thursday, January 26 and ran until Tuesday, January 31, saw customers who topped up between $10 and $50 instantly receiving an additional 50 per cent in FREE top up and given a chance to win a Samsung Galaxy S7.
An overjoyed DeShong thanked Digicel for the new smartphone, which he said is an upgrade from the handset he currently uses. Deshong said he has been a Digicel customer for more than 12 years and while this is his first time winning, it was well worth the wait. The Sharpes resident also thanked the telecommunications company for continuing to conceptualize very attractive and rewarding promotions.
Meanwhile, Digicel distribution manager Gershom Dick, while presenting the longstanding Digicel customer with his handset, congratulated him, adding that customers can look forward to a series of exciting campaigns, all geared at incentivizing prepaid customers. Dick further used the opportunity to encourage all Digicel customers to continue to do what they usually do, which is to top up, activate data plans and stay loyal to the Digicel brand and they will continue to be rewarded in very significant ways.