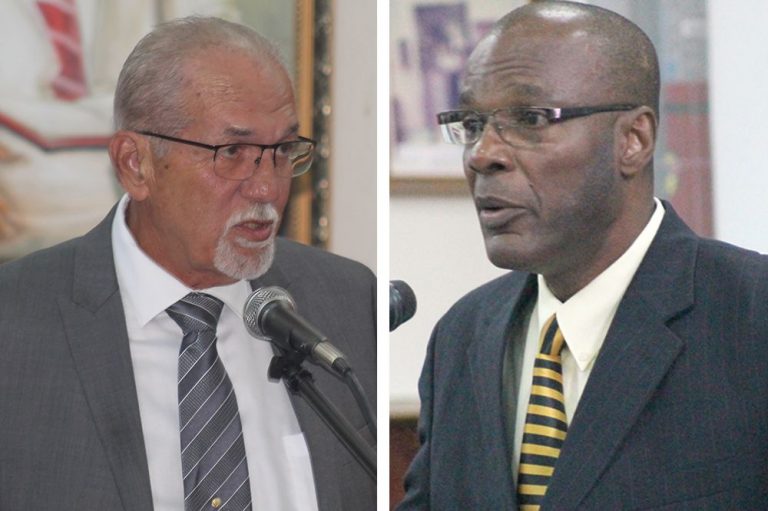 Cummings never made 'drain the swamp' comment – NDP
The New Democratic Party (NDP) has strongly condemned what it refers to as an "insidious attempt" by Senator Julian Francis to impute improper motives on the part of Daniel Cummings, parliamentary representative for West Kingstown, in the Parliament on Monday, January 30, 2017.
In a release issued Monday, the NDP stated that they wished to have their condemnation placed on public record.
"The New Democratic Party of St. Vincent and the Grenadines hereby wishes to place on public record its strongest condemnation of insidious attempt by Senator Julian Francis in Parliament on Monday, January 30th, 2017 to impute improper motives from the progressive and heartfelt frank and practical proposals presented by West Kingstown Member of Parliament, Honourable Daniel Cummings."
According to the release, Cummings' speech on that day was targeted at, among other things, "addressing the needs to modernize the Public Service while making life better for both for the Public Servants and members of the public.
"In no way was the Hon MP for West Kingstown suggesting in his speech in Parliament that our dignified Public Servants represent any swamp to be drained. In fact, it is our solid position that the only swamp that is existing and which needs draining now is the ULP," the release stated.
In his address in the Parliament, Cummings lamented the need for there to be a more revolutionary, practical and proficient public service, while describing the system as being "archaic" and "inefficient".
"The time has long come for us to be revolutionary, to be practical, [and] to be proficient. It is a simple matter of having supervisors who can monitor the performance of the juniors…," Cummings said last week Monday.
He further added that he chose to speak on the topic because the "time has come for us to understand management systems; making people accountable and paying attention to more critical aspects of the work than bugging people down with insignificant filing."
Cummings noted that he hoped his submissions would not fall on deaf ears.
"I make these comments, Mr Speaker, because I care about this blessed land of ours. We cannot operate in era where resources are so scarce and not our use every means available to improve our method of operation, our efficiency and I hope that my humble submissions will not fall on deaf ears," he said.
However, during Cummings' address, Francis, the Minister of Transport and Works, stated: "All I can say is this, that if you were to get into the office of government…I am sure that you will drain the swamp…I am sure you will drain the swamp; you not threatening it now, but you will drain the swamp."
According to the press release from the NDP, Cummings is a "decent" Member of Parliament who has "demonstrated his love for his employees and as a person to see them maximize their potential.
"Prior to his entrance into active partisan politics, he demonstrated what it means to work with Public Servants and to ensure service par excellence as exemplified by the 'one of a kind' adult education programme for field workers at the Central Water and Sewerage Authority (CWSA) that he implemented during his tenure as general manager. He has also demonstrated that in the Rotary Club and in the Region," the release indicated.
Additionally the release stated that the NDP subscribes to a policy where "state workers would be allowed to get their jobs done without interference from politicians save and except facilitating the effective delivery of services which they are charged to deliver to the citizens of the country and visitors alike.
"The majority of Public Servants in SVG yearn for the positive change to a system where reward is linked to performance and merit."
The release stated that the policy position of the NDP is that no 'fear-mongering' can substitute for honest and unbridled truth.
"The New Democratic Party hereby say to all our hard working Public Servants that they should continue to deliver excellent service. The time is fast approaching when you will be able to function as trained professionals, as you ought to do and not be required to act as politicians," the release stated.
Senator Francis, however, told SEARCHLIGHT he stands by his statement.
Speaking Monday night after the presentation of the Budget speech, the senator said Cummings has "absolutely no respect for public servants."
"Daniel Cummings thinks that he is the only public servant that is capable of doing things," Francis declared.