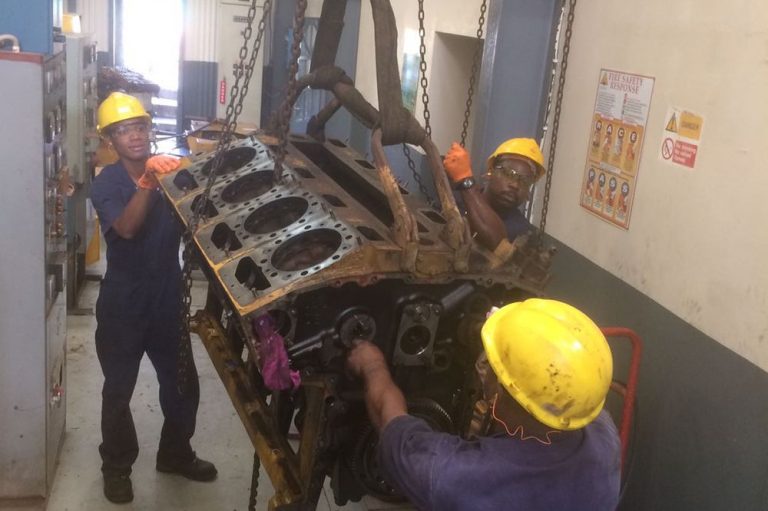 VINLEC overhauls generating unit at Union Island Power Station
A complete overhaul of a generating unit at the Union Island Power Station has been ongoing for the past week, in keeping with the mandate of St Vincent Electricity Services Limited (VINLEC) to ensure customers receive safe and reliable electricity supply.
Overhauls at the various power stations are part of VINLEC's routine programme to maintain the generators used to produce electricity. They are an important component of the company's maintenance operations, as the process results in improved efficiency and reliability.
Work on the Unit # 5 is being done to yield optimal performance, to increase an engine's power output, economy, and durability. During this process, the engine is disassembled, cleaned, inspected, repaired as necessary and tested, using factory service manual approved procedures.
The work at the Union Island station is being executed by a team from the Generation Department. VINLEC's Generation Department is responsible for producing a continuous supply of electricity to satisfy the energy needs of consumers in the most cost effective and efficient manner. Following completion of the overhaul, a number of checks will be carried out on the engine to ensure it is functional before being reintegrated into the generating system. Work on this project is scheduled to be completed within the next five weeks.
The Union Island Power Station was officially commissioned in 1974. Presently, the station provides electricity to 1,197 customers. There are 15 persons on staff, three in the Transmission and Distribution Department and 12 in the Generation Department.