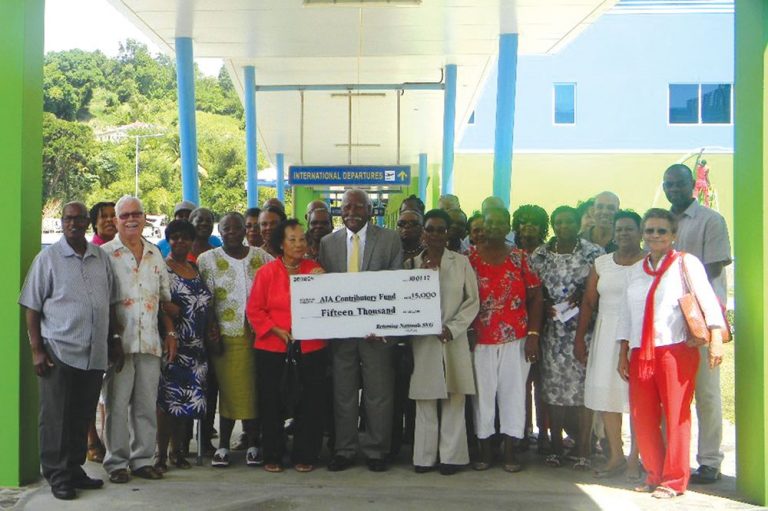 Returning Nationals SVG makes final contribution to AIA
Returning Nationals SVG, the single largest local contributor to the Argyle International Airport Contributory Fund, has made its final contribution towards the development of the Argyle International Airport and other related facilities.
On Monday, January 30, 2017, the group which comprises Vincentians who once lived in the diaspora, but have returned home, met at the AIA's conference room to present their final cheque. The cheque for EC $15,000 was handed over to patron of the AIA Contributory Fund, Governor General Sir Frederick Ballantyne, bringing their contribution to a grand total of EC$275,000.
Speaking at the handing over ceremony, president of Returning Nationals SVG Nyoka Clouden said they are happy to be numbered among their country men and women who worked for the betterment of their country. She thanked the general public and many organizations for the tremendous support the group has had over the years.
Noting that the group has contributed a significant amount of money to the airport's fund, CEO of the International Airport Development Company (IADC) Dr Rudy Matthias commended them for their hard work in raising funds for the project. He also thanked them for their decision to make available EC$150,000 to the Cayo Village.
Accepting the cheque, Sir Frederick said all Vincentians have a moral responsibility to build this country and must use whatever skill and ability they possess to make St Vincent and the Grenadines a better place for all Vincentians to live. He thanked the returning nationals for their input in the nation's development and wished them well as they continue to work for the development of the country.
Returning Nationals SVG made its first contribution towards the airport's development in December 2011, following their independence dinner held at the Aquatic Club in November 2011. The group was formed in 2011 through the efforts of Sibinus McMillan and Rebecca Isles.