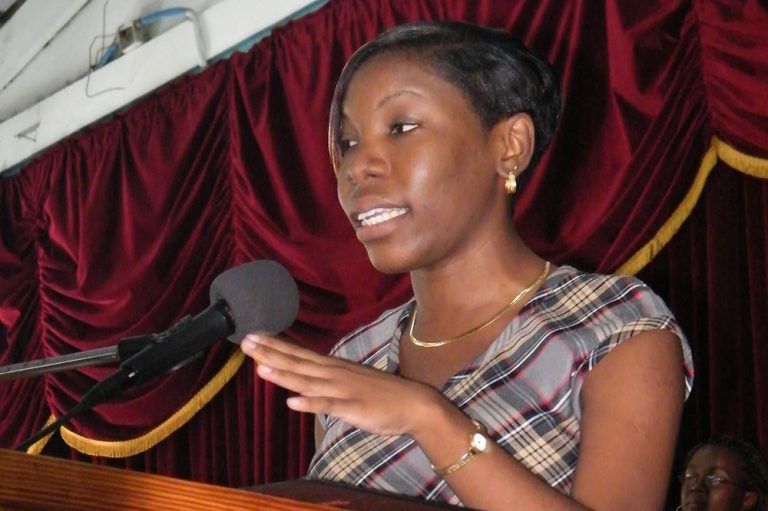 Deputy dean having hard time coping with death of her charges
by CARLOS ATWELL
JANELLE ALLEN is taking the deaths of three of her charges hard.
While she is not a blood relative, she might as well have been, as she knew Danee Horne from the time she was a little girl.
Speaking to the DAILY NATION last Monday inside The Crane Resort, St Philip, Barbados, the deputy dean of the St Vincent and the Grenadines Community College – Division of Technical and Vocational Education – took frequent pauses, as she struggled to maintain her composure while remembering her students who died in a horrific car crash, along with their Bajan friend and driver early Sunday morning at Graeme Hall, Christ Church.
"Aziza was bold, fun-loving, outgoing and very determined; the type of student who knows what she wants and goes after it. Carianne was a gem, an A+ student, both in deportment and work-wise, and Danee . . . she stood out to me.
"I'm a member of the Girl Guides movement and Danee was one of my Brownies. I practically watched her grow up. She was reserved and shy, but very warm and reliable. I knew them all personally. It's a hard loss," she said.
Allen was speaking about the tragic accident which claimed the lives of four people, Vincentian hospitality students Danee Horne, 17, Aziza Dennie, 19 and Carianne Padmore, 18, and Crane employee, 23-year-old Andre Gittens. It also left two others hospitalized – Darren Daniel, 18, and Kemelius Boyea – whom Allen said had been discharged and were awaiting the doctors' all-clear before flying home.
Two other students, Jyan Cato and Rolisha Roberts, who were in a separate vehicle, were unharmed. They are already back in St Vincent and the Grenadines.
Allen said the victims' mothers – Aziza's mother, Donna Browne; Carianne's mother, Heslyn Cadogan; and Danee's mother, Waveney Horne – were all at The Crane, but were too distraught to speak to the press.
The DAILY NATION spoke to Aziza's sister Azinza in St Vincent via telephone. She said her sister loved to play football and was pursuing a career in the hospitality industry.
"She played in a female community football team. She loved football," she said quietly.
Azinza recalled the last time she saw her sister was December 16, when she left for Barbados, but said she spoke to her via video chat on Saturday evening.
"She told me how they were going to a friend's birthday party and how she had to buy a Rasta outfit for a staff party. She also said she wanted special treatment when she got back – asking for a cake and ting," she said.
Azinza said she was taking her sister's death one day at a time, keeping herself occupied, while their mother took care of things here.
Allen said Carianne was a second year student in a two-year associate degree programme in culinary arts, while Aziza and Danee were hospitality students.
"We only select the best to go on this internship. This year was the first in five years. I had no complaints from management of the students, everything was going well, so when I got the news, I remembered wondering if it was one of those instances where you were having a vivid dream.
"I spoke to Kamelius on Saturday on WhatsApp. It was his birthday and he told me they were going to a party later. I told him to be safe and I would see them Sunday, when they were to leave. I went to bed after 1 a.m. and my phone sleeps next to me, but somehow I did not see the calls," she said.
The next step was the hardest one of all – telling the parents.
"My first thought was 'how am I going to tell these parents the news?' I had to compose myself first because I was hysterical. I've dealt with all sorts of situations as deputy dean, but never anything like this. But I knew I had to tell them before the rumours hit," she said, adding the responses ranged from "very calm to very hysterical".
Allen said the internship with The Crane was something her students looked forward to every year. Whether it would be postponed or even cancelled, however, was not something she could say.
As for The Crane, she had nothing but praise for the resort, saying the staff showed her, the students and the parents the greatest courtesies even through their own loss. (DAILY NATION)