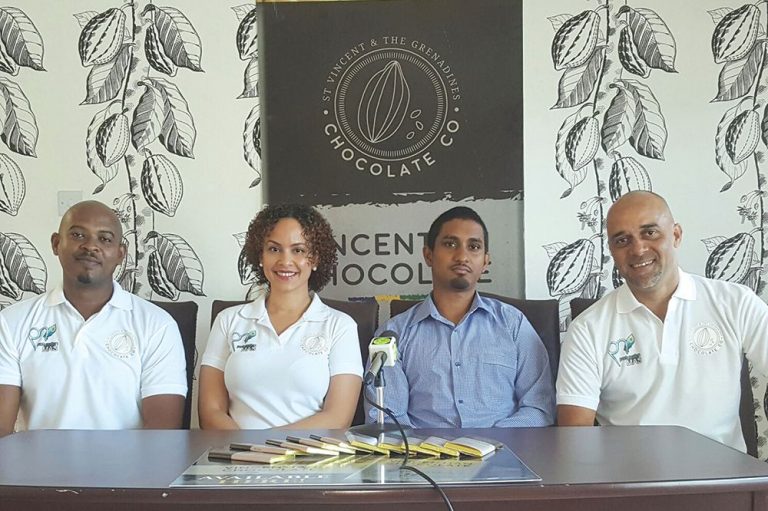 Party Nation teams up with SVG Chocolate Company to promote Vincy culture
Party Nation, the newest entertainment outfit here, has teamed up with the St Vincent Chocolate Company and their product Vincentian Chocolate to provide persons with an ultra-premium party experience, geared towards promoting St Vincent and the Grenadines (SVG) and the Vincy Mas product.
The announcement of the collaboration was made last Wednesday at the St Vincent Chocolate Company's (subsidiary of St Vincent Cocoa Company) office in Beachmont.
Speaking during the launch, finance director at the St Vincent Cocoa Company Aidon Shearman said that collaboration between Party Nation and Vincentian Chocolate is a strategic effort to add value to Vincy Mas, while giving back to the Vincentian public.
Party Nation is the brainchild of music producer Mark Cyrus, entrepreneur Calvert Jones and international music industry icon Ivan Berry.
Speaking at Wednesday's event, Cyrus stressed that Vincentian Chocolate is the backbone of Party Nation.
"They are the power behind us and we exist because of them, so we are grateful for the link and marriage between these entities," said Cyrus, who noted that the collaboration is aimed at pushing the Vincentian Chocolate brand, while bringing up the level of Vincy Mas even higher.
Vincentian Chocolate Party Nation will be officially launched on February 17 at Mariners Inn at Villa, at which time the public will be shown the offerings for the entity's mas band.
Cyrus said that while they will not be competing, they will be providing a mas production of extremely high quality.
Also commenting, Jones said that they are here to add value on several different levels.
"With the introduction of the Argyle International Airport (AIA), this is a tremendous opportunity for the island to be exposed and for us to expand the products we offer and with this very exciting marriage that we have, we see this as a ultra-premium experience and a big step forward to adding value to Carnival," said Jones.
He noted that they are working closely with Fever TV of Canada, Jeanille Bonterre of Island Xclusive and the Ministry of Tourism.
Vincentian Chocolate Party Nation is also hoping to attract a number of celebrities to these shores to play mas.
"There is no doubt that we are the hottest Carnival in the region and this is what party nation will be enforcing, while adding the ultra-premium experience," said Jones.
Public relations officer (PRO) of Vincentian Chocolate Party Nation LaFerne Fraser said the costumes are "amazing and Vincentians will be impressed and the prices are competitive."
The costumes were designed by Barbadian Lauren Austin. Austin is the design director of Barbados based Carnival band, "The Aura Experience" and is a past designer with another Barbadian band, Zulu International. International singing sensation Barbadian Rihanna Fenty is usually seen in Austin's designs during Barbados' Carnival celebrations. A number of local designers and coordinators will also be used.
There is no charge for the launch and persons may register for the Mardi Gras band, which is dubbed "Ultra".
Party Nation will also be entering in Carnival Monday T-shirt band activities and a party set, which Vincentians know as "Shipwreck," but which will be called by another name.(LC)