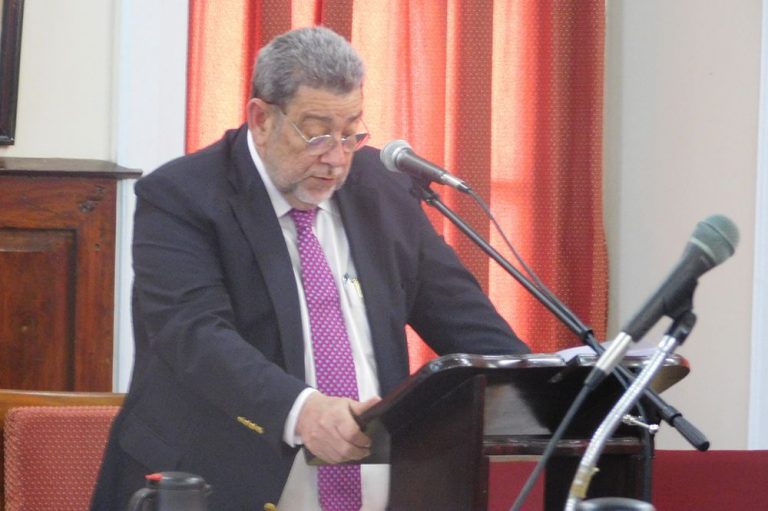 Four areas get 76 per cent of recurrent budget
The four functional areas of general public services, education, economic affairs and social protection have been allocated 76.3 per cent of the Government's recurrent budget for 2017.
This was announced by Prime Minister Dr Ralph Gonsalves during his presentation of the Estimates yesterday in the House of Assembly. He said general public services were allocated $282.99 million (37.8 per cent), education – $120 million (16.1 per cent), economic affairs – $19.8 million (13.2 per cent) and social protection – $91.5 million (12.2 per cent).
The Prime Minister said that other important strategic priorities of the government would include health, as well as public order and safety which have been allocated $68.9 million and $63.9 million respectively.
Capital Estimates amount to $229.6 million, which represents a 16.1 per cent increase or a $31.9 million increase over 2016. The Prime Minister pointed out that 63.5 per cent of the capital budget falls within the control of three ministries.
"The performance of these ministries will to a very large extent determine the 2017 public sector investment programme implementation rate. Their ability to harness their respective technical and administrative capacities to deliver on these projects under their charge will influence the overall impact that this public sector investor programme would have real GDP growth in 2017," Gonsalves stated.
The three ministries are the Ministry of Transport and Works ($64.4 million or 28.1 per cent), the Ministry of National Security ($50.5 million or 22 per cent) and the Ministry of Economic Planning ($30.8 or 13. 4 per cent).
Gonsalves, who is also Minister of Finance, noted that one of the priorities for the monies allocated to the Ministry of National Security would be put towards making the Argyle International Airport work.
And, after St Vincent and the Grenadines took a battering from natural disasters last year from September to November, 17.7 per cent or $40.7 million of the capital budget has been allocated for environmental support.
"Investment has to be made to support climate change mitigation and adaptation and build infrastructural…resilience. These projects aim to achieve these objectives."
Another 10.2 per cent or $23.4 million has been allocated for housing and community infrastructure.(CM)