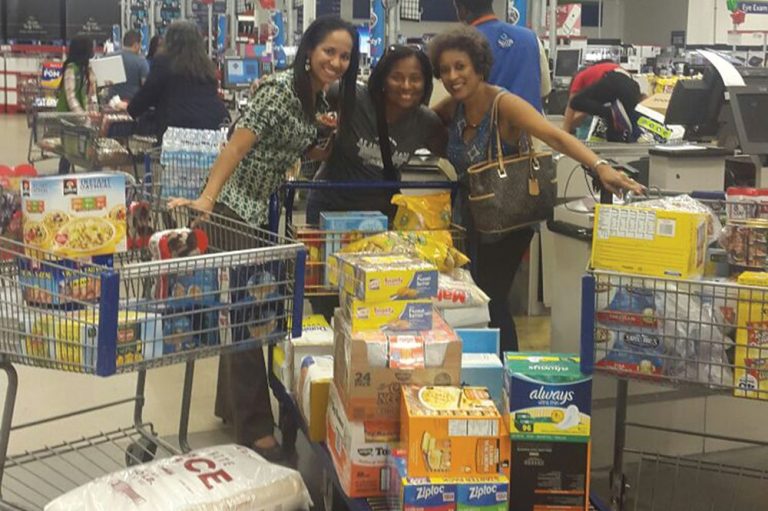 Delivering on a thought
in the week following the damaging floods in the north of St Vincent, in Sandy Bay and surrounding areas, Rozann De Freitas felt moved to help those affected.
Initially, she thought to send some money from Florida home to St Vincent and the Grenadines so her mother could purchase much needed food items and deliver to a family or two. She contacted her mother Sylvia De Freitas and asked if she would be able to take on the task. With a nod of approval from her mother, Rozann then had the idea to get more persons involved, so that many more families in need can be assisted.
With the duty free concessions being in place for incoming barrels to St Vincent during the Christmas season, the thought then turned to sending a barrel filled with food and toiletry supplies, rather than sending cash. Rozann contacted a few of her friends and family members also living in South Florida and New York and asked if they would be willing and able to join in on the effort. Without hesitation, everyone agreed to pitch in financially, as well as physically, to make this idea a reality. Some of her friends even contacted their friends and within six days almost $1,000 in cash was donated towards buying the supplies. Clothing and shoes were also donated toward the cause.
Additionally Rozann discussed her relief effort at work on the next day, and decided to set up a food donation bin. By the end of the week, dozens of grocery bags full of food items were donated to the worthy cause.
It was hoped that one barrel would be sent to help those affected by the flooding; however, with the overwhelming support received, this group of Vincentians was able to ship three barrels, plus a large box filled with food, snacks, toiletries, personal items, shoes, clothing, baby formula, baby food, and toys.
Thanks to the generosity of those involved with the relief effort, the barrels and shipping costs were taken care of without any additional expense. On the receiving end in St Vincent, Rozann also was able to garner support of friends and family to assist in unpacking and sorting the relief items and packaging them for distribution.
A huge thank you goes out to all who contributed by way of donating food and clothing, monetary donations, as well as time and effort, to purchase the supplies and to pack and ship the barrels.
All the items were delivered in the Pepper Village, Level, London and Sandy Bay areas and distributed to 22 families and four mothers with babies. Skipping ropes, tops and other toys, along with snacks, were also delivered to the Sandy Bay Primary School. All recipients were highly appreciative of the thoughtful gesture.