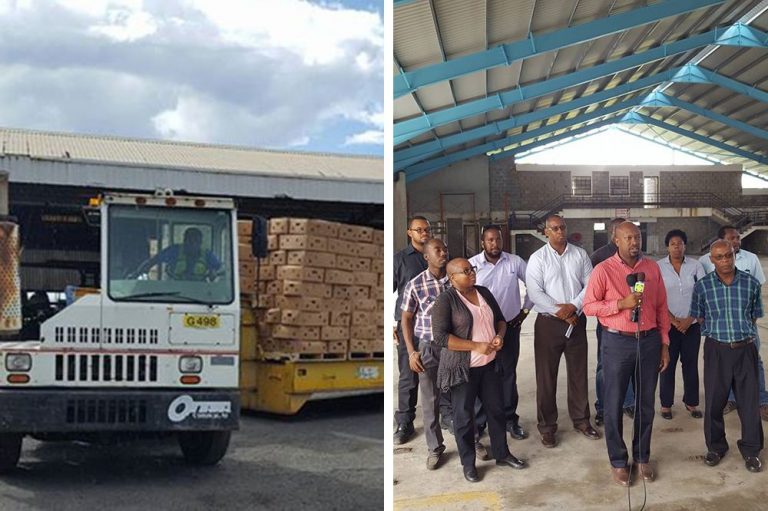 Improvements will be made in grading, sorting of agricultural produce – Caesar
When it comes to the grading and sorting of agricultural produce and competitive pricing on the regional and extra-regional markets, St Vincent and the Grenadines has not been at its best.
But according to Minister of Agriculture Saboto Caesar, that is about to change, as his Ministry makes full use of the EC$30 million provided by the Banana Accompanying Measures (BAM).
BAM is a support package for a number of banana-exporting countries from the African, Caribbean and Pacific (ACP) group of states. The objective is to facilitate these countries' adjustment to a new trading environment.
Speaking during a tour of the Langley Park Palletisation Centre last week, Caesar said that the centre at Langley Park was constructed to address the issues related to loading bananas and at one point when there was significant tonnage, the centre was seen as a means of reducing the cost of loading.
Now with a renewed focus on exports of agricultural produce, the Langley Park centre (refurbished using BAM funds) will be used as an area where all types of produce will be packaged.
In 2013, the Ministry of Agriculture launched an agri export strategy initiative, with the main focus on non-banana commodities and also the exportation of goods to non-traditional markets. The first shipment under this initiative left here two weeks ago with the packaging done at the Lauders agro-processing facility.
Caesar said a single shipment of produce to Trinidad filled the Lauders centre, so if exports are to increase, more space is needed; hence the importance of other centres like the one at Langley Park.
The Agriculture Minister said with the opening of international air access as the Argyle International Airport becomes operational, this country will see an increase in agricultural exports. Caesar is therefore also looking at expanding to the palletisation centre in La Croix and other areas, including Belmont, where packaging and preparation can be done.
He noted that preparation of the produce is going to be of first importance and the space at Langley Park will provide an opportunity for many farmers to bring their produce for washing and packaging.
Caesar added also that this quality promotion is supported by the OECS Secretariat, which has started a five-pronged programme for the advancement of intra-regional and extra-regional trade in both banana and non-banana agricultural commodities.
Caesar also said the Langley Park facility will also be utilized by banana farmers, many of whom are still in recovery. He said that the spray plane should be airborne in the next few weeks and farmers must take all measures to de-leaf and keep their farms clean, so that they can benefit when aerial spraying starts back.