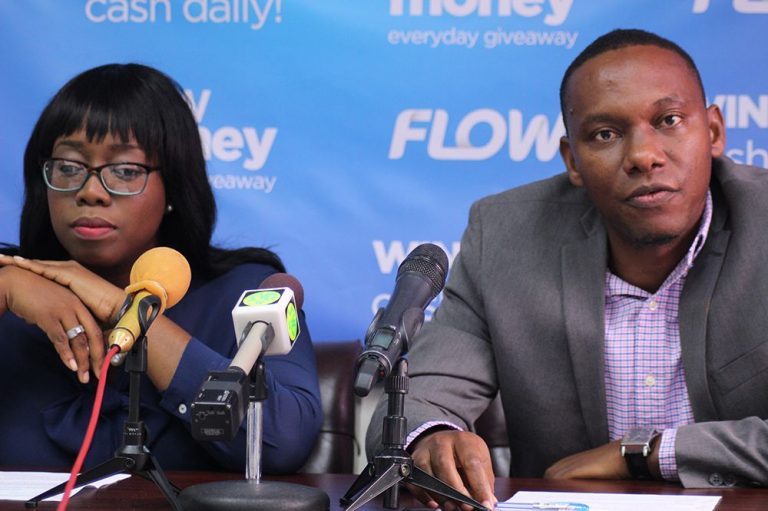 FLOW's new plans to give back to customers
FLOW's customers continue to benefit from the telecommunications services provider's various promotions and exciting initiatives.
The company launched three promotions last Wednesday, January 18, at the office of FLOW's country manager Wayne Hull on Halifax Street, and according to Marketing and Corporate Communications manager at FLOW Nikala Williams, the promotions are aimed at giving back to Vincentians in what a lot of persons consider the hardest time of the year.
The plans launched are the Hero postpaid plan, the bundled products plan and the FLOW money every day giveaway promotion.
Explaining the Hero postpaid plan, Hull said that this plan is what the company considers to be the most cost effective postpaid service in the country that offers great value in terms of data, voice and text messages.
"One of the big options in the plan is what we call the $79 plan and this plan allows you to have 1.25 gigs of data, it gives you 250 minutes of call time to any network locally and it also gives you 100 SMS and this is at a value of $79. I don't think that value is available anywhere here in St Vincent and even in the region," said Hull.
He said that for customers who use more data, they have a second option of the plan which allows the customer to have 2.25 gigs of data, 450 minutes to call any local network and 100 text messages for EC$129.99. These plans come with a free smartphone.
"While we have seen prices rising in the market for other operators for postpaid services, we are bringing more value to the customers and we expect customers to see about 20 per cent savings on their bill once they choose to sign up to these new Hero postpaid plans," said Hull.
Going on to the bundled plans package, Hull said that in his opinion, these packages are the biggest untold stories offered to customers at FLOW.
He said that the best way for customers to subscribe to services is to have bundles that allow customers to combine TV and broadband services and be able to receive great savings.
Bundled plans include TV Plus and Turbo 2 broadband for EC$174, TV Plus and Turbo 12 for EC$219 and TV Plus and Turbo 25 for EC$242.
Speaking about the FLOW money every day giveaway promotion, Williams said that just by being a FLOW customer, you can walk away with EC$400 Monday to Friday up to the end of March.
So, how does the promotion work?
Just by topping up $15 or more, activating a combo plan, signing up to New post-paid Hero plan or by texting "FLOW Money to "6263", persons will be entered in a random draw to win $400 cash.
Winners will be called live during FLOW hour on Hot 97.1 FM.
Williams said that FLOW is the first company in the market to give away cash money in the month of January.
"This is an opportunity to give back to our customers in one of the most financially challenging times of the year. This is absolutely amazing for us," stressed Williams.
This latest promotion follows on the heels of FLOW's Christmas promotion, which saw Judylyn Richards of Lowmans Windward walk away with EC$10,000.