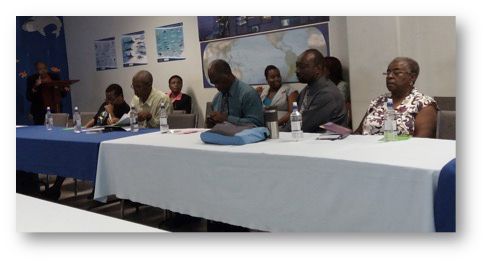 Accreditation system in SVG to be reviewed
The National Accre-ditation Board (NAB) is in the process of reviewing and upgrading the registration and accreditation system here in St Vincent and the Grenadines.
The objective of this exercise is to bring the services of NAB in line with new internationally accepted standards of quality assuring academic services.
The first leg of the review process was conducted by accreditation consultant Dr Ruby Alleyne on January 17, 2017 at the Fisheries conference room and targeted members of the NAB, as well as the staff at the Accreditation Unit.
In this phase of the exercise, the consultant engaged the members of the NAB. The second meeting was held to provide stakeholders with an opportunity to assist in shaping the new process. This part of the consultancy was held the following day at the Tele-Com conference room.
Representing stakeholders were: the evaluators, the Immigration Department, academic providers and the St Vincent and the Grenadines Union of Teachers.
Consultant Dr Ruby S Alleyne, who facilitated the workshop, holds the degree of Doctor of Philosophy in Education from the University of the West Indies. She served as executive director of the Accreditation Council of Trinidad and Tobago from 2005 to 2009. She has served as a consultant in matters of Quality Assurance in education at the national (Trinidad and Tobago) and at the regional levels. She has served and continues to serve CARICOM on matters related to registration and accreditation.
The follow-up sessions have already been organized for February 27 and 28 2017. Funding for the revision of the registration and accreditation system has been secured from the European Union through the Caribbean Development Bank's Standby Facility.