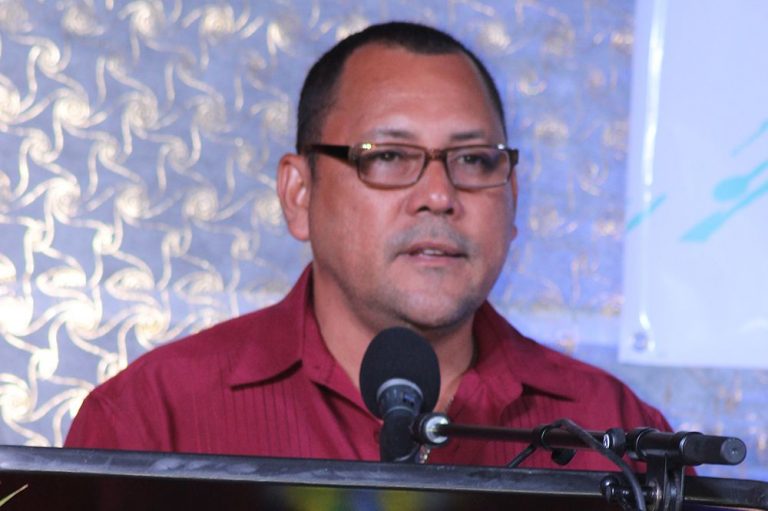 Vincy Mas 2017 to be grand spectacle – CDC Chair
Chair of the Carnival Development Corporation (CDC) Ricardo Adams is calling on persons to do their best to make Vincy Mas 2017 the greatest spectacle the country has seen, as we celebrate 40 years of the festival.
Adams, who addressed members of the media last Tuesday at the Cruise Ship and Ferry Terminal during the media launch of Vincy Mas 2017, said that the CDC is excited about the 40th anniversary celebration of the move of Vincy Mas from a pre-Lenten event to a June to July festival.
"This is our ruby edition, and as such, we, as the CDC, commit to making it a very special year for Vincy Mas," said Adams, who praised the persons whom he said had the courage to move Carnival to a June/July festival, which some argue was really the birth of today's Vincy Mas.
"I would also like to recognize the efforts of those who took it from where it started in 1977 to the point where we are today. It is my hope that with this foundation, we can go from strength to strength to make Vincy Mas the main pillar of our national cultural and tourism product," said Adams.
Adams said that the CDC is paying close attention to youth development in an effort to develop the young stars like Soca Monarch 2016 Shane "Hypa 4000" Husbands, Ragga Soca Monarch 2016 Chewalee Johnson, Calypso Monarch 2016 Zamfir "Man Zangie" Adams, King of the Bands Jelani Niles and pannist Rodney Small.
In relation to calypso, Adams is asking that the various tents do earlier releases, while they are also hoping to improve the structure of the rural Carnivals.
"We will also be looking at how we become more efficient custodians of the history and information related to Vincy Mas, because this is a role we must take very seriously.
"We need to become a central repository for information related to past and current contributors to Vincy Mas, and a database for contact information et cetera for our current practitioners of all of the art forms," said Adams.
He said that Vincy Mas has many stakeholders which include the Government, law enforcement, the clergy, private sector, media, the various components of Vincy Mas and private promoters.
"We intend to work collaboratively with all entities involved and reduce the level of public acrimony that has existed in recent times. We are here to do what is best, not for Ricky Adams, or CDC, or any single entity, but for Vincy Mas and St Vincent and the Grenadines."
He said that this year, a number of new events have been introduced and will appeal to all age groups.
"We must pay attention to the venue, the quality of the acts and the quality of the services we offer. We must pay significant attention to time. Shows must be compact, quality events and must finish within a reasonable time," said Adams.
This year also, the CDC will introduce an all-inclusive option for all practical shows at Vincy Mas, while Adams noted that Miss SVG has a new committee, headed by Laferne Fraser, a former Miss SVG and Miss World contestant.
He noted that Fraser has a number of exciting innovations that would be unveiled in the next few weeks. Another party event is "EVO 4.0/Evolution 40," which is the CDC's 40th birthday party and will showcase the best of what Vincy Mas offered over the years.(LC)