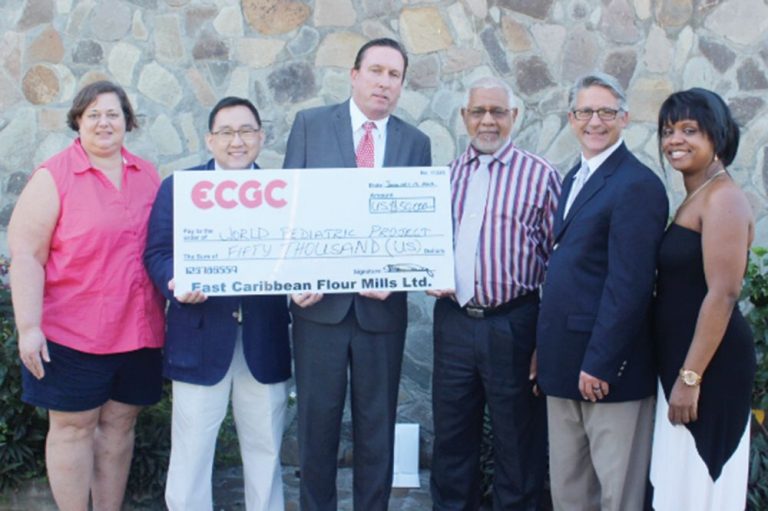 ECGC makes donation to WPP
The St Vincent based East Caribbean Group of Companies (ECGC) gave a well-deserved boost to the regional arm of the World Pediatric Project (WPP) with a donation of US$50,000 last week.
On Friday, January 13, Osmond "Ossie" Davy, chief executive officer of ECGC, handed over the cheque to WPP's chief development officer, Simon Carey, and the WPP general surgery team that was on island performing assessments and surgeries throughout the week.
Davy, in making the presentation, said that his company was honoured to support the organization and the work that it has been doing over the years.
"The genesis of this came out of my involvement of the Rotary Club.
"When I recognized the kind of work that WPP has been rendering to the kids of St Vincent and by extension, those in the OECS, I thought that ECGC, being a flagship company of the OECS, ought to get involved and do so in a very meaningful manner.
Davy also indicated that the child of an ECGC employee had recently benefited from the expertise of a previous WPP team, and used the opportunity to thank the present team for the valuable service they provide to the region.
Carey, on accepting the cheque, said that the contribution was indeed valuable to WPP, and used the opportunity to call on others to follow the example of ECGC.
The WPP director said that the organization is hoping that within the next 10 years, all children in the region would be able to benefit from cardiology care, through the WPP.
Speaking on behalf of the visiting general surgery team, Dr Jeff Lukish of John Hopkins University Hospital also thanked Davy and ECGC for the donation.
"We cannot do this job without the support of persons like Mr Davy and companies like ECGC, and we cannot accomplish the big goal that Mr Carey is talking about without such contributions.
"I can only describe it as a privilege to come to St Vincent to care for the children of St Vincent and the Eastern Caribbean basin," Lukish said.
The World Pediatric Project has been based in St Vincent and the Grenadines for the past 13 years, and had taken care of 3,645 children at a cost of over 34 million US dollars.