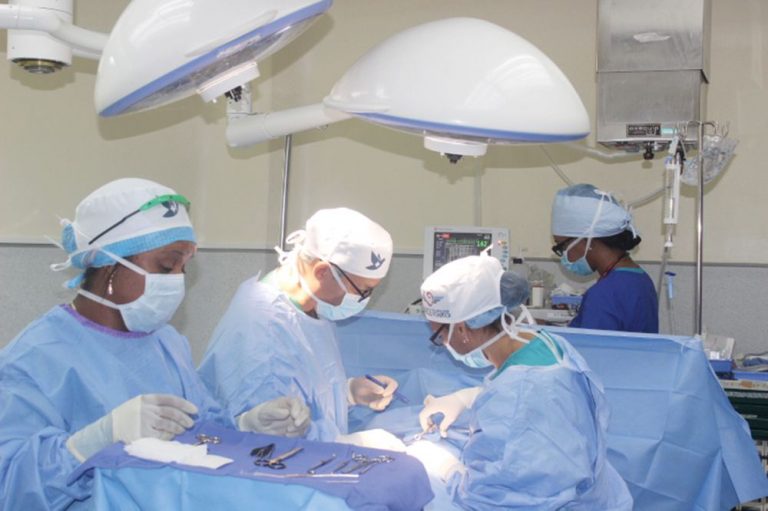 WPP successfully concludes first mission to SVG in 2017
The first World Pediatric Project (WPP) mission to the St Vincent and the Grenadines for 2017 has been hailed a success.
The General Surgery mission, led by Dr Jeff Lukish, conducted 14 surgeries, at the Milton Cato Memorial Hospital, on children from St Vincent and the Grenadines, Antigua and Barbuda, Barbados, and St Lucia.
Fifty children from eight Caribbean islands were seen during the preliminary assessment, which was conducted last Sunday, also at the hospital.
Lukish was accompanied by OR nurse Sheree Dyer, PACU nurse Marybeth Pule, pediatric anesthesiologist Dr Tae Kim, and World Pediatric Project VP of Development Andrea Shaver.
The team was ably assisted by local doctors, nurses and other medical practitioners, who contributed to the success of the exercise.
Lukish said that the team was happy to be in St Vincent and the Grenadines to provide the much needed care and attention to the children, and said that all surgeries performed were successful, with the youngsters being able to recover in a short space of time.
The General Surgery mission is the first of almost one dozen slated to take place this year.
Missions scheduled for 2017 include ophthalmology, plastic surgery, cardiology, physical therapy, general orthopedics, orthopedics – scoliosis, and neurosurgery.
WPP has been facilitating the free health care service to children from St Vincent and the Grenadines and the rest of the Caribbean region for the past 14 years, and has provided thousands of surgeries over the years, at a cost upwards of US tens of millions of dollars.