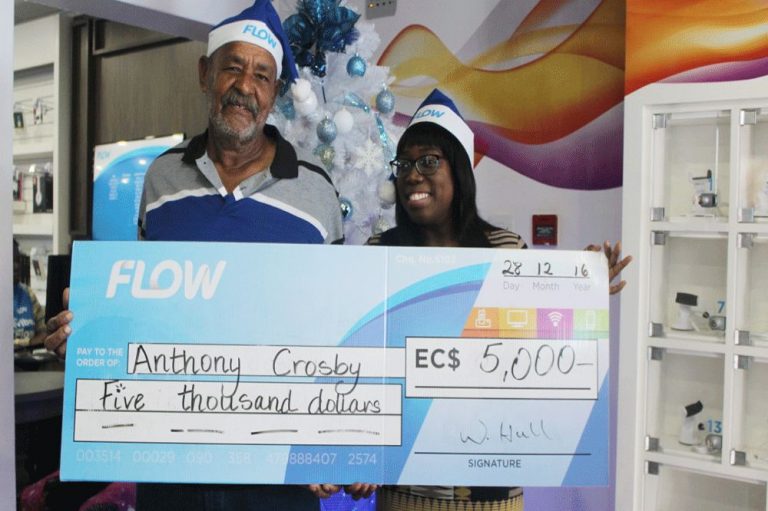 Lucky woman walks away with $10,000 from FLOW
One woman walked away with EC$10,000, another with EC$5,000, a man received EC$5,000 and a woman a 55-inch smart television, all compliments telecommunications services provider FLOW and their Christmas promotion.{{more}}
"I feel excellent, I did not expect this," said the EC$10,000 winner, Judylyn Richards, after learning that she had won the grand prize in FLOW's 2016 Christmas promo.
During the Christmas promotion, persons who purchased cellular phones, paid their bill on time and in full, signed up for television and broadband services or the various bundled deals offered, were given the opportunity to write their Christmas wish on a piece of paper and drop it in FLOW's wishing well.
The wishing well draw was done last Friday at FLOW's corporate offices on Halifax Street and saw Richards winning the whopping cash prize.
The Lowmans Windward resident said that she has been a customer of FLOW for many years and loves the services provided, even more so now that she has won money from the company.
"When I heard I had won, I was on my bed and I screamed out because I didn't expect it. This is the first time in my life I have ever won anything," said the excited domestic worker.
Richards said that she had originally wished for a new chair set and wrote that on the paper she dropped into the wishing well, but ended up receiving more than what she wished for.
"I didn't really want a chair set, because I have a chair set, so I just wrote that because I didn't expect to win, but now I have received this money and it is more than I ever expected, so I would like to say thank you very much because it was really needed…thanks, thanks and thanks to FLOW," commented Richards.
The other winners in the, draw were Anthony Crosby, who won EC$5,000; Gail Ann Williams also won $5,000, while Hetty Johnson won a 55" smart TV. Both Crosby and Williams wished for cash and got their wish.
"I feel really great. The first thing that went through my mind when I heard I had won is that it wasn't true; then after I realized is true, I was so excited" said Williams.
The Union Island resident, who is originally from Stubbs, said that this is the first time in her life that she has won anything and thanked FLOW, as the money will come in handy to deal with bills.
"All I did was pay my bill. I didn't wish for anything really. I said some cash, any amount of cash, but I did not expect any at all, because I never won anything before", said the excited nurse.
Marketing and Corporate Communi-cations manager at FLOW Nikala Williams said that this Christmas, FLOW customers got their share of the $20,000 wishing well.
"Persons actually wished for things and ended up with so much more than they wished for. The first prize winner wished for a new chair set and walked away with $10,000; the second place winner Anthony Crosby and third place winner Gail Ann Williams both wished for cash, but did not expect to walk away with $5,000 dollars each", noted Williams.
The winners were informed of their good fortunes during a live, on air Hot 97.1 FM phone call.
The Christmas promotion also rewarded a number of other persons with cash and prizes.