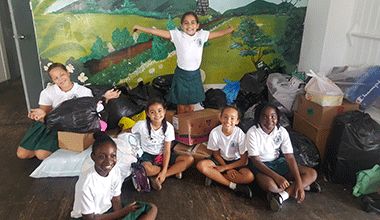 Sugar Mill Academy donates to Sandy Bay flood victims
The students of the Sugar Mill Academy have donated a large quantity of relief supplies to residents of Sandy Bay residents who experienced the worst effects of the recent trough system. The supplies, which included clothing, non-perishable foodstuff and children's toys, were collected by students during the last days of the academic year.{{more}}
Students of the primary school's "Green Team" launched a "Pay it Forward Christmas Drive," which encouraged fellow students and parents to donate to less fortunate Vincentians. Initially, the Christmas Drive was intended to support residents living in the vicinity of the Sugar Mill Academy's Ratho Mill campus. However, in the midst of the collection drive, the students learned of the devastating flooding and property damage in North Windward, and decided to refocus their efforts.
"After hearing about the devastation in Sandy Bay, the team decided that those families were in greater need this Christmas and therefore the items were donated to those Sandy Bay families who lost so much," said Liz Cordice, principal of the Sugar Mill Academy. "The response was indeed great."
The student-led effort collected over 40 boxes of supplies. The donations were collected by Montgomery Daniel, Minister of Housing and Member of Parliament for North Windward, on behalf of the affected residents of Sandy Bay. Minister Daniel pledged to distribute the supplies to those still living in shelters and receiving assistance from the National Emergency Management Office (NEMO).