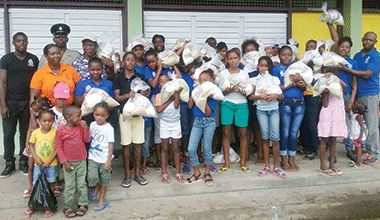 RSVGPF Youth Club gives back to communities
A number of persons from North Leeward, Richland Park and Sandy Bay were this week on the receiving end of the generosity of the Youth Club of the Royal St Vincent and the Grenadines Police Force (RSVGPF) and a number of their partners.{{more}}
On Tuesday, members of the Youth Club journeyed to North Leeward, where they donated 44 gift baskets to needy members of the club itself, the elderly and the needy in the various communities.
The North Leeward donation was made possible through gifts from a number of homeowners in Mustique.
Also, last Wednesday December 21, it was the turn of persons in Richland Park and Sandy Bay. These persons received gift baskets, thanks once again to a number of homeowners in Mustique and another police partner, Courts SVG Ltd. Items donated included rice, flour and toiletries.