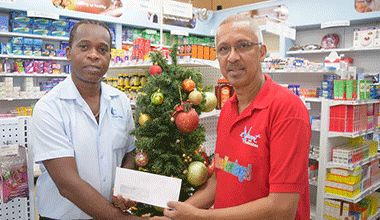 Coreas donates to Nine Mornings
Coreas Hazells Inc continues to make contributions to the development of our culture and has made a tangible donation to the SVG Nine Mornings Committee, the group responsible for organizing the Nine Mornings activities in the country.{{more}}
A cheque for $5,000 was handed over by marketing coordinator of Coreas Hazells Inc Ezzie Roberts to deputy chair of the Committee Lennox Bowman.
Bowman expressed much gratitude to Coreas Hazells Inc for their valuable contribution.
He stated "The Nine Mornings Committee would like to sincerely thank Coreas Hazells Inc for their valued and worthwhile contribution."
Roberts in response said: "The sustenance of this unique Vincentian tradition is very important. We recognize the fact that the execution of such a costly venture depends heavily on the support of the private sector."
He continued, "We definitely recognize our corporate responsibility in this regard, hence our willingness to support wholeheartedly."
The funds will go towards offsetting some of the committee's expenditure for this year's activities. It is not the first time Coreas Hazells Inc has sponsored activities organized by the SVG Nine Mornings Committee.
Roberts also took the opportunity to highlight the company's sponsorship of the Coulls Hill Nine Mornings Committee. A quantity of Christmas lights were donated towards the lighting up of the location where the Coulls Hill Nine Mornings activities are being held. Deputy chair of the Committee Kenly Shallow received the items on behalf of his committee.
Shallow also expressed much thanks on behalf of his organization for the contributions from Coreas Hazells Inc.