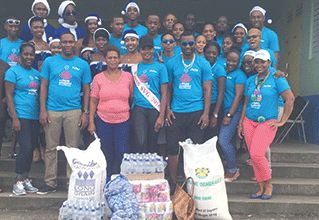 FLOW charity drive brings Christmas cheer to Sandy Bay
FLOW and a number of its business friends journeyed to Sandy Bay last Saturday, December 10, where they distributed a number of items aimed at helping persons affected by the trough system that tore through this country on November 29 and 30.{{more}}
"It was fit for us to embark on this initiative as we realized the impact the system had on Sandy Bay", explained marketing and communications executive at FLOW Melissa Veira.
She further stated, "a lot of our customers were seriously impacted and we truly care about Vincentian lives in general and the communities in which we operate".
The show of good corporate social responsibility saw the involvement of the Country Meets Town J'Ouvert Band, OSV, The T-shirt Store, Frank B Armstrong, Facey Trading and a number of FLOW staff and FLOW ambassadors, including Miss St Vincent and the Grenadines 2016 Nikianna Williams and Soca Monarch 2016 Shane "Hypa 4000" Husbands.
Veira said that the persons who received their support were appreciative and thankful for the items they received and that experience was heart-warming.
Persons still housed at the Sandy Bay Government School emergency shelter and persons in the Sandy Bay community were recipients of a number of food and other items that helped them cushion the impact of the trough.
The team also embarked on a sales drive from Kingstown to Georgetown, while the charity drive was done between Georgetown and Sandy Bay.
"We wanted to spread the Christmas cheer to affected persons because we know some of the problems they might be going through," said Veira.