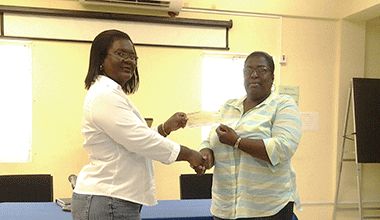 Bunpan hands over relief cheque
The Marriaqua United Friendly Society (Bunpan) on Friday handed over a cheque for $5,000 to the National Emergency Management Organization (NEMO) towards the relief efforts to assist persons affected by the trough system of November 28 to 29, 2016.{{more}}
Margaret Clarke, general manager of Bunpan and director Rickie Burnett handed over the cheque to acting director of NEMO Michelle Forbes.
This system produced heavy showers, resulting in flooding and landslide in several areas, mainly to the north east and north west of mainland St Vincent and leaving 186 persons in shelters.
The handing over ceremony took place at NEMO'S conference room.