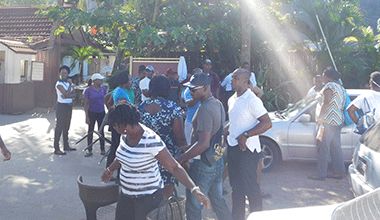 Buccament Bay Resort workers losing homes, says head of CTAWU
A number of local employees of the Buccament Bay Resort who have not been paid salaries and wages for over two months have been allowed to live at the resort, as they have been booted out of their various rental homes because of non-payment of rent.{{more}}
This was revealed by trade unionist and head of the Commercial, Technical and Allied Workers Union (CTAWU) Joseph Burns Bonadie, during a telephone conversation with SEARCHLIGHT last night.
According to Bonadie, the fact that a number of employees have not been paid for some time has created serious financial issues for them and in some cases they were asked to leave by their landlords.
Bonadie said that realizing the seriousness of the situation, the Resort's general manager Gailene Collins-Crick allowed some of these employees and their families to live temporarily on the Resort.
"I was shocked when I heard that today (Monday), that people have actually been asked to leave their rental property as a result of not being able to pay their rent," said Bonadie.
He said that the families who were allowed to stay in the hotel are still there and have been there for a little while now.
Bonadie also disclosed that Dave Ames, founder of Harlequin Hotels and Resorts, the parent company of Buccament Bay Resort Limited and Harlequin Property SVG Ltd, promised, in a telephone conversation with Minister of Labour Camillo Gonsalves yesterday, to pay workers their outstanding wages by today Tuesday, December 6. (LC)