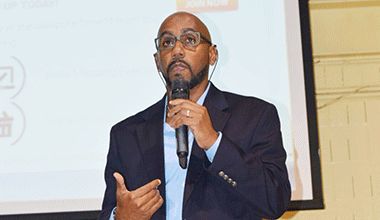 'Take pride in your homeland' – SVG Tourism Authority CEO
CEO of the SVG Tourism Authority Glen Beache, speaking at the launch of Vincy Mas 2017 on Sunday, November 13, at 671 Prospect Place, Friends of Crown Heights in Brooklyn, New York, called on Vincentians home and abroad to pull their weight in making Vincy Mas really "the hottest Carnival" in the region.{{more}}
Beache said that while St Vincent and the Grenadines does not have the resources of the other countries, "We can get the most from what we do have."
He pointed out that the promotion of Vincy Mas is not done by Carnival Development Corporation (CDC), but by the Tourism Authority, and lamented the negative comments that are sometimes spewed about the festival.
"We need not to be so negative about SVG…Take pride in your homeland. If, as Vincentians, we don't take pride in what we have, nobody is going to do it for us," Beache cautioned.
Beache said that he hasn't said much about the Argyle International Airport, but had a promise for persons who plan to be part of the 40th anniversary celebrations.
"One thing I'm going to guarantee you, is that we are going to have direct flights from JFK to AIA for Carnival 2017," Beache assured the audience.
Also lending his voice to the occasion was the Minister of Tourism and Culture Cecil "Ces" Mc Kie, who urged persons in the diaspora to get on board.
Mc Kie urged persons in attendance to grab the many investment opportunities which are available to them in the land of their birth, and advised them, "if you don't do it, other persons will do it."
Vincy Mas 2017 officially runs from June 30 to July 11.(RT)