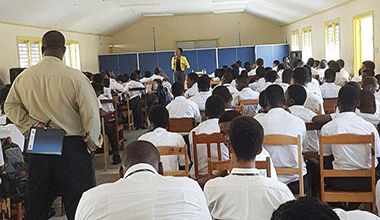 Grammar School students sensitized to Cyber Crime Act
As part of efforts to sensitize students about the tenets of Cyber Crime law, the St Vincent Grammar School held three interactive sessions with students at the school at its assembly hall on Thursday, October 20, 2016.{{more}}
The morning session was facilitated by Danielle France, who spoke to the First, Second and Third formers, while the evening session was facilitated by Roderick Jones, who spoke to the Fourth and Fifth formers.
Students were informed about the various offences as outlined in the law, as well as the penalties for committing said offences, which range from paying fines to incarceration. They were also informed about the investigative powers of the police. Each session was followed by a period of interaction, where students' questions were answered by the facilitators.
The sessions were organized by the school's ICT Committee, in conjunction with its IT Department.