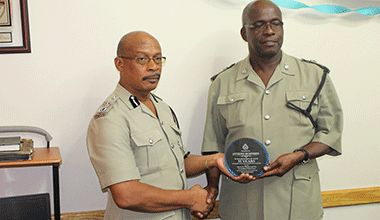 ASP Humphrey to retire next month
As Assistant Superinten­dent of Police (ASP) Anthony Humphrey prepares to retire from the Royal St Vincent and the Grenadines Police Force (RSVGPF), Commissioner of Police (Acting) Renold Hadaway has described him as one of the most knowledgeable individuals in general policing duties.{{more}}
"We will miss his input when discussing matters of general policing. The knowledge and experience gained will serve him well as he embarks on his new journey," said COP Hadaway at a recent ceremony to recognize ASP Humphrey.
Humphrey officially retires from the RSVGPF on Thursday, December 15, 2016, after enlisting more than 35 years ago, on February 28, 1981. He was the Divisional Commander for Eastern.
The acting commissioner's sentiments were echoed by other senior members of the RSVGPF, who also spoke of the camaraderie that they developed with ASP Humphrey and the benefits to their own careers from the knowledge gained from him.
Commissioner Hadaway, addressing the officer corps, said he first met ASP Humphrey in 1984 when they were both transferred to Bequia in the earlier years of their careers. COP Hadaway was transferred to Port Elizabeth Police Station, while the then PC Humphrey was transferred to Paget Farm Police Station. Later, ASP Humphrey was transferred to Old Montrose Police Training School (OMPTS), followed by Commissioner Hadaway, who joined the staff at the training school.
"It was during this period that we developed a very close bond. We worked together, helping each other, as we operated as a team to get the job done," said COP Hadaway.
The COP recalled working together with ASP Humphrey in the preparation and delivery of lectures, conducting drills and physical training exercises. "We learnt from each other."
COP Hadaway said after leaving the OMPTS, ASP Humphrey worked in several outstations and was able to acquire a sound understanding of the management and functions, as well as roles and responsibilities of the police. ASP Humphrey also distinguished himself as a prosecutor serving throughout St Vincent and the Grenadines.
"It is also my hope that when called upon that you will respond favourably, so that the organization can continue to benefit from your experience, particularly our younger members as we seek to deepen the knowledge base of our officers," said COP Hadaway.
"At this juncture, on behalf of the organization, I wish you the best in your future undertakings," said COP Hadaway, adding "Best of health and God's blessing."
Prime Minister Ralph Gonsalves, Minister of National Security, who also attended the ceremony, said when a man dedicates almost 40 years of his life to a profession, it speaks volumes of his commitment to the country.
"I am here to thank you on behalf of the people of St Vincent and the Grenadines," said Gonsalves, adding "that word is not said often to the people who maintain law and order."
ASP Humphrey said that he has no regrets joining the RSVGPF.
He gave the assurance that if his service is ever needed, he will make himself available.
Deputy Commissioner of Police (Acting) Colin John, the assistant commissioners of police, superintendents and assistant superintendents also described ASP Humphrey as one of the most knowledgeable police officers with whom they had the opportunity to serve.
"Today is a sad day. We are losing a man of immense talent. I had a good second man in ASP Humphrey. Without him, I may not have been here today. The Royal St Vincent and the Grenadines Police Force will really miss you," said Assistant Commissioner of Police Carlos Sampson, who is in charge of the Force's administrative affairs.
The Commissioner of Police, as well as members of the rank and file of the Police Force, wishes ASP Humphrey well in his retirement.
(Police Public Relations)