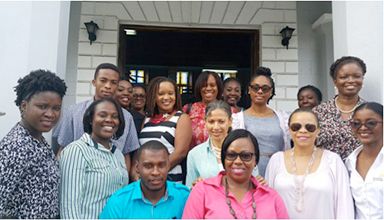 Financial Services Authority celebrates fourth anniversary
The Financial Services Authority (FSA) commemorated its fourth anniversary on November 11, 2016. The FSA was formally established on November 12, 2012, with a mandate to supervise and regulate the non-banking financial institutions and international financial institutions registered in St Vincent and the Grenadines.{{more}}
The highlight of the fourth anniversary celebration was a church service, with Bro Monty Maule of the Kingstown Methodist Church officiating. The FSA's theme for the service was "Stewardship". In his message, Bro Maule challenged the FSA to ensure faithfulness in the conduct of its business and representation of St Vincent and the Grenadines.
In opening remarks, deputy executive director Eleanor Astaphan congratulated the staff of the FSA on its accomplishments to date, but noted the ever present need to remain relevant as an organization and to remain focused on meeting the consistently higher standards demanded of regulatory authorities, through excellence in delivery of its services.
The event was attended by members of the board of directors, management and staff of the FSA and representatives of financial institutions.
The FSA thanks the Methodist Church for its accommodation and the financial services industry for the many congratulatory messages received.