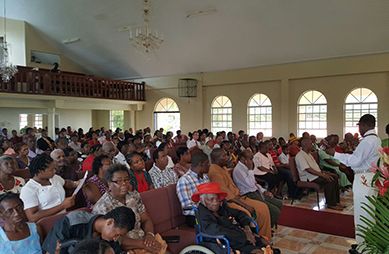 Disabled, needy persons treated to special SDA service, luncheon
A total of 150 disabled and needy persons from Calder and surrounding areas were on Saturday, November 12 treated to a specially organized luncheon, which saw them all being presented with gifts, when the Calder Seventh-Day Adventist Church hosted its 9th annual Disability Month Programme, with funding assistance from Digicel SVG.{{more}}
The special church service, which was held under the theme: "I'll Walk With You," saw persons from the Society of and for the Blind, the Helping Hands Centre, the Lewis Punnett Home, among others, displaying their unique skills and abilities in song and the playing of instruments.
Delivering remarks at the event, representative of the Calder SDA Church Maurice John explained that the Ministry for Persons with Disability at his church is very committed to empowering the disabled population among us. The event also saw the distribution of proceeds raised at a concert, which was recently held at the Arnos Vale complex and was also supported by Digicel SVG.
Meanwhile, Digicel SVG's country manager John Davies, in his remarks at Saturday's event said his telecommunications company was more than happy to be a part of these activities put on by the Calder Seventh-Day Adventist Church, geared at recognizing and appreciating that segment of our population identified as disabled or differently abled. Davies added that Digicel will continue to support organizations and establishments that aim to unite all the people of SVG, and strive to assist the less fortunate and disabled to live as normal a life as possible. Davies also challenged the church to continue to reach out to commercial houses across SVG to help them realize their vision of developing and enhancing the quality of life and standard of living of disabled persons here in St Vincent and the Grenadines.
The event also included remarks from the Minister responsible for persons with disabilities- Frederick Stephenson, and Parliamentary Secretary in the Ministry of Ecclesiastical Affairs Deborah Charles.