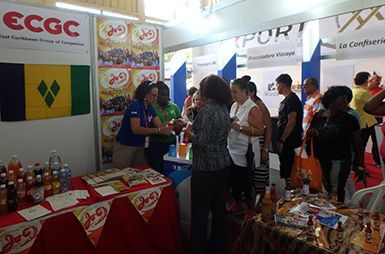 ECBI participates in Trade Fair in Cuba
Marketing manager Rachel Haslam and technical services officer Dr Tahomma Richards of Eastern Caribbean Bottlers Inc (ECBI) travelled to Cuba to participate in the Havana International Fair (FIHAV), which ran from October 31 to November 4, 2016. The fair took place at the Expo-Cuba fairground, located on the outskirts of Havana.{{more}}
The FIHAV has been dubbed as Cuba's largest multi-sector trade fair and comprised displays from over 1,000 companies from several countries across the global arena.
This year, Eastern Caribbean Group of Companies (ECGC), through ECBI, saw it fit to take its Ju-c products to the world stage to further build and market the brand.
Haslam noted that the event was spectacular and filled with limitless possibilities, especially for the Caribbean region. She further added that while she believes that the process to liberalization is not a swift one, she is hopeful. Her hope rests in the fact that SVG and Cuba have shared amicable ties and that assistance from the Government of SVG will aide in fostering trade between the islands.
The Caribbean was awarded a prize for its collaborative effort and the number of persons participating for the first time. Other participating islands included Antigua and Barbuda, Dominica, St Kitts/Nevis, Grenada, who were all first timers, along with St Lucia, Guyana, Jamaica, Trinidad and Tobago and Barbados.