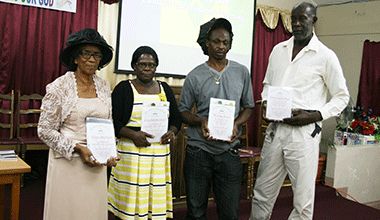 Questelles SDA honours five
Five outstanding persons from the South Leeward constituency were honoured last Sunday night under the theme: "How Great is Our God."
Four of the outstanding five were honoured during the Questelles Seventh-Day Adventist Church Cantata and Honouring ceremony. Wayne "Cub-I" Benn was honoured for his work in the field of Auto Mechanics; Cecelia "Nancy" Stewart for Business/Vending; Dennis Barker for Construction; Veltie Durham, Education; and Dr KPHN Roa was honoured in the field of Health.{{more}}
While four of the awardees were present to accept their awards, Dr Roa was given his award in advance, as he had to leave the state prior to the start of the ceremony to be with his family overseas. Mineva Glasgow chaired the proceedings, which saw the presentation of the honourees, joyous singing and motivational messages from Pastor Shane Franklyn.
Glasgow said that the honouring service is the 10th such one put on by the church. "It's really a pleasure for us as a church to honour the persons in the community. The church exists to help those in the community, share the gospel and also to give back."
Pastor Franklyn delivered a powerful message, in which he spoke about King Nebuchadnezza's capture of Israel. Franklyn told the gathering that the man who runs without God will be weary and fall down, but those who stand with God will be renewed in strength.
Cecelia Stewart was brought to tears as her nephew Kimron Charles read her citation. Charles told the audience that Stewart is a twin and came from a poor background. He said Stewart helped her mother, who was also a vendor and she had her big break after she joined her brother and became his business partner. Stewart is a mother of five and currently works as a vendor and business woman outside Bonadie # 2. However, the most powerful moment that brought Stewart to tears was when Charles recounted how Stewart took care of him when his father passed away.
Wayne Benn, popularly known as Cub-I, is from Rillan Hill, the only child of his mother. The father of one daughter has been in the auto mechanic industry for over 20 years. He started training at his uncle's garage. Benn was given a scholarship to train in the field of auto mechanics because of his skills. He also serves as an instructor in St Vincent and has studied auto body repair in Barbados and later on gained qualifications in welding. He currently operates a mechanic shop and many of the persons he has trained now have their own mechanic shops.
Barker, originally from the Questelles, started construction from a very tender age. He later migrated to Trinidad, where he continued his trade. He later returned to St Vincent and the Grenadines, where he trained many other persons in the field and executed some major projects, including working on the Buccament Bay Resort. He is a father of two and has over 30 years in the construction field.
Veltie Durham, who was honoured for her work in the field of education, was born in Lower Questelles, but now resides at Campden Park. She is a former student of the Questelles Government School and the Bishop's College Kingstown. She began teaching from an early age as a student teacher. She later became a qualified teacher and served at the Buccament Bay Secondary School where she became deputy principal and acting principal before retirement. Her teaching career spanned 37 years. Durham is the mother of three children.
Durham delivered thank you remarks on behalf of the awardees, while Adina Findlay delivered the vote of thanks on behalf of the church and Kenute Peters delivered the Benediction to conclude what many present described as a wonderful ceremony. For a number of the recipients, it was the only award they have ever received.