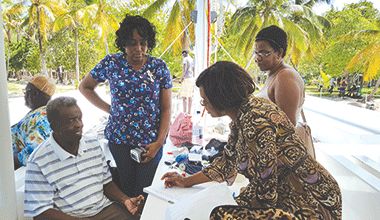 Vinlec hosts 8th Retiree Appreciation Day
The 8th annual VINLEC Retiree Appreciation Day was held on Friday, October 21. This year, the retirees were taken on an excursion to the Southern Grenadines and sailed through the Tobago Cays. The touring party stopped on the island of Mayreau for a picnic.{{more}}
Retiree Appreciation Day is one feature of the company's Retiree Appreciation Programme, which was initiated as a demonstration of VINLEC's appreciation to the retirees who contributed to the development of the company.
Another aspect of the programme is the celebration of birthdays, which involves distribution of gift baskets to retirees, along with a home visit by members of staff. There are also other opportuntites for interaction namely at the Family Fun Day and Awards Ceremony. Previous outings included Power Station Tours, luncheons, as well as tours to Rawacou, Bequia, Black Point, the Leeward coast and Dark View Falls.
At the conclusion of the event, the retirees indicated that the trip was exciting and offered expression of thanks to VINLEC for the programme. They noted that at these events, they are updated on the activities within the company and also have opportunities to socialize, share knowledge and exchange ideas.