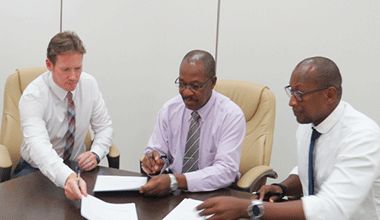 SVG to obtain Integrated Resource Plan (IRP)
St Vincent Electricity Services Limited (VINLEC) continues to demonstrate its commitment to providing reliable and affordable energy through its involvement in the preparation of an Integrated Resource Plan (IRP) for this country. An IRP is a roadmap that outlines how the electricity needs of a country and its consumers are met over time. The IRP generally forecasts 10 to 25 years into the future.{{more}}
VINLEC's chief executive officer, Thornley Myers, and director of the Energy Unit Ellsworth Dacon expressed their commitment to Integrated Resource Plan (IRP) at a signing ceremony last Wednesday. The other signatory to the document was Justin Locke from the Carbon War Room.
Prior to the signing of the agreement, representatives from VINLEC's Management and Engineering Division, the SVG Energy Unit, the Clinton Climate Initiative (CCI) and the Rocky Mountain Institute and Carbon War Room (RMI-CWR) met to discuss the strategy and objectives of the process. The international organizations are neutral third parties that strive to create a marketplace for renewables.
According to the Myers, the company's involvement in this venture is critical, in light of the fact that providing reliable, affordable electricity is a priority for the utility. He noted that VINLEC will work with all parties, as the outcomes of this project will bring benefits to all.
The IRP process has three specific phases, namely the fact base and process alignment, assessment of current energy system and development of future energy scenarios and strategy development, implementation and business plan. Among the activities to be carried out in St Vincent and the Grenadines are data collection, data analysis, forecasting for electricity demand, examination of resources, cost/benefit analysis and selection of an optimal model, among others.