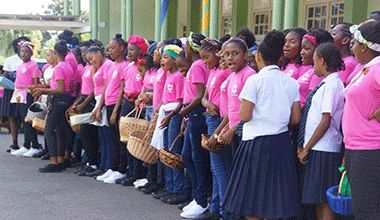 St Vincent Girls' High School shares bountiful harvest
'You shall open wide your hand to your brother, to the needy and to the poor, in your land.' Deuteronomy 15:11
Friday, October 14 was a festive day at the St Vincent Girls' High School, as the school celebrated its annual Harvest. The Harvest is a tradition at the school, the aim of which is to instill in students the practice of selfless giving, as they make food and monetary donations to deserving persons and organizations across St Vincent and the Grenadines (SVG).{{more}}
As the start of the 2016 celebrations approached, classrooms were buzzing with students animatedly decorating boxes in which to present their donations of fruits, vegetables and other food items… the prefect body was busy producing a spectacular display on the lawn with a selection of the fruits and vegetables that the students had brought… and in the Grimble Hall, teachers and students were making final preparations for the disbursement of harvest contributions to institutions such as the Vinsave Pre-school, the Thompson Home, the Milton Cato Memorial Hospital, the Lewis Punnett Home and the School for Children with Special Needs.
The Harvest programme commenced at 1 p.m. and featured the reading of the World Food Day Message, songs performed by different year groups, a dance, a skit and an appearance by the contestants in the Miss Heritage Pageant, which is scheduled to take place on October 28, 2016.
Casmus McLeod of the Ministry of Agriculture addressed the school and guests in attendance on the 2016 World Food Day theme "Climate is changing. Food and agriculture must too" and stressed the importance of environmental awareness and the benefits of eating healthy.
Every year, in addition to the food donations, each class contributes Harvest Pledges, accumulated from September to October through students' individual sacrifice and fund-raising. This year, the sum of the pledges was $18,083.60, exceeding the 2015 figure of $15,429.85. As she presented the pledges to two recipients, Andrea Bowman, the school's headmistress, expressed her sincere gratitude to the students and commended them on their generosity. (Prepared by a student of the GHS)